Apple Event Live Blog: MacBook Pro and iMac Updated With New M3 Chip Family
Apple's "Scary Fast" event kicks off today at the unusual time of 5:00 p.m. Pacific Time, and we're expecting to see the debut of the M3 family of Apple silicon chips with updated iMac and MacBook Pro models and perhaps some other announcements.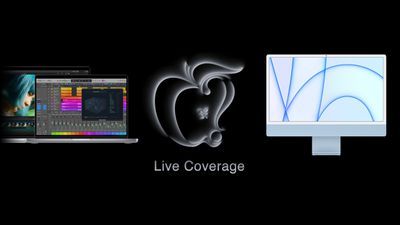 Apple is providing a live video stream on its website, on YouTube, and in the company's TV app across various platforms. We will also be updating this article with live blog coverage and issuing Twitter updates through our @MacRumorsLive account as the event unfolds. Highlights from the event and separate news stories regarding today's announcements will go out through our @MacRumors account.
Apple's online store was taken down approximately 30 minutes ahead of the event, much closer to the start than usual.
Sign up for our newsletter to keep up with Apple news and rumors.
Live blog transcript ahead...
10:52 am:
We've got something special for you tonight. No tricks, just treats. Tune in at 5pm PT. #AppleEvent pic.twitter.com/Cs5Dub7Q02

— Tim Cook (@tim_cook) October 30, 2023
4:30 pm: 30 minutes to go! Get your snacks and drinks prepped and get ready to settle in!
4:35 pm: Apple's online store has just gone down, only 30 minutes ahead of the event.
4:41 pm: The event stream is now live in Apple's TV app and should start showing up shortly on the Apple website and YouTube. For now, the stream is just showing shifting lighting and shadows on the spooky Apple event logo while ambient music plays.
4:48 pm: With just over 10 minutes to go, the stream is live on Apple.com
4:59 pm: We're now live on YouTube, and just one minute away from this unusual and spooky evening Apple Event!
4:59 pm: (Evening on the East Coast, at least)
4:59 pm: We're starting!


5:01 pm: We're starting with a scientist in a lab... and then a basketball coach trying to use his Mac... and then soccer coaches for Lionel Messi... and a college student. Lots of Mac users.
5:02 pm: The Mac users want things to be fast. A Porsche designer... girls who code ("it's not that hard")... "but is it as hard as breathing?"
5:02 pm: "But you're on a Mac, so how hard can it be?"

5:02 pm: Now we have an Apple logo as the full moon, glowing through the clouds over Apple Park.

5:03 pm: Tim Cook, in all black, welcomes us to ‌Apple Park‌. "We're doing something special to celebrate a product we all love."
5:03 pm: It inspires us "to do the best work of our lives."

5:04 pm: Apple Silicon has driven the creation of the strongest and most capable lineup in the history of the personal computer.
5:04 pm: This transition has been especially profound for MacBook Air and MacBook Pro. This has given them extraordinary capabilities and extraordinary battery life.
5:04 pm: There's a new family of breakthrough chips, being brought to the world's best pro laptop: MacBook Pro.

5:05 pm: Johny Srouji: "Welcome to my lab."
5:05 pm: State of the art design, industry-leading power efficiency, and advanced technologies.
5:06 pm: Our latest technologies to more users faster than ever. 3 breakthrough chips at the same time. M3, M3 Pro, and M3 Max.

5:06 pm: Groundbreaking technologies and show how far ‌Apple Silicon‌ has come since the debut of the M1 family.
5:06 pm: First chips for a PC using 3 nanometer technology.

5:07 pm: Every component of the new chips uses 3nm to deliver increased performance. Next-generation GPU with the largest leap forward in graphics architecture for ‌Apple Silicon‌. A new microarchitecture with a breakthrough feature called Dynamic Caching.

5:07 pm: In traditional architecture, software determines how much GPU utilization to allocate, meaning the GPU is underutilized. In next-gen GPU, local memory is dynamically allocated by hardware, in real time. Only the exact amount of memory needed is used for each task.
5:07 pm: This is transparent to developers and the cornerstone to our new GPU architecture.
5:08 pm: New rendering features like hardware accelerated mesh shading.
5:08 pm: Hardware accelerated ray tracing.

5:08 pm: Pro apps can deliver 2.5x faster rendering performance than the ‌M1‌ family of chips.

5:09 pm: Performance CPU cores are up to 30% faster than ‌M1‌ while maintaining efficiency. Efficiency cores are up to 50% faster than ‌M1‌.
5:09 pm: Industry-leading performance per watt. Same multithreaded CPU performance as ‌M1‌ with half the power. GPU can do the same with nearly half the power as well.

5:10 pm: Tremendous gains in performance per watt. Compared to 12-core PC laptop chip, uses same performance with 1/4 the power. GPU uses 1/5 the power.
5:10 pm: Faster and more efficient neural engine, up to 60% faster than ‌M1‌ family.
5:11 pm: Advanced media hardware engine with support for H.264, HEVC, ProRes and ProRes RAW, and AV1 (used by YouTube, Netflix, and other services).



5:12 pm: M3 chip delivers phenomenal performance for our most popular systems, with 8-core CPU (4-power and 4-efficiency), 10-core GPU (6/4) and up to 24GB RAM.
M3 Pro 12-core CPU and 18-core GPU is up to 40% faster and up to 48GB of RAM.
M3 Max uses 16-core CPU, 40-core GPU, and up to 128GB of memory.

5:12 pm: 25 billion, 37 billion, and 92 billion transistors in the M3, M3 Pro, and M3 Max.

5:13 pm: Now on to the MacBook Pro.
5:13 pm: "It's the world's best pro laptop."

5:13 pm: "It's a Monster upgrade for anyone still on an Intel-based MacBook Pro."
5:14 pm: "The new MacBook Pro is scary fast."
5:14 pm: 14" MacBook Pro starts with M3 chip.
5:14 pm: Includes advanced thermal system (aka a fan) allowing for sustained performance. Up to 60% faster than the 13-inch MacBook Pro with ‌M1‌.

5:15 pm: Now the 14-inch and 16-inch MacBook Pro, with M3 Pro, for users with more demanding workflows.

5:15 pm: Up to 40% faster than the 16-inch model with M1 Pro.
5:16 pm: Can drive 2 external high-resolution displays.
5:16 pm: Now MacBook Pro with M3 Max.
5:16 pm: Performance and capabilities that push the limits of computing. Up to 2.5x faster than 16-inch MacBook Pro with M1 Max.

5:16 pm: Video post-production on the highest resolution content is a breeze thanks to two ProRes engines.
5:17 pm: Supports 128GB of unified memory.
5:17 pm: Came in the Mac Studio with M1 Ultra. Now, 18 months later, we're bringing it to MacBook Pro.
5:17 pm: MacBook Pro with M3 Max can drive 4 high-resolution external displays.
5:17 pm: All models of MacBook Pro deliver same performance whether plugged in or on battery, unlike many PC laptops.
5:18 pm: Up to 22 hours of battery life.
5:18 pm: "Whether you're working all day or all night."

5:19 pm: For users who haven't upgraded from Intel, it's up to 11x faster than the fastest Intel-based MacBook Pro. Everything you do will be unbelievably responsive, and for the vast majority of workloads, you'll never hear the fans. 11 more hours of battery life, and many more great features, and industry-leading liquid retina XDR display.
5:19 pm: Apple is pushing hard for owners of older, Intel-based Macs to upgrade.
5:19 pm: SDR content is displayed at up to 600 nits, 20% brighter than before. Users connected to a Studio Display have consistent brightness across their workflows.
5:19 pm: Stunning new color!
5:20 pm: BLACK


5:21 pm: MacBook Pro in Space Black, a gorgeous dark aluminum finish, with a breakthrough anodization method that resists fingerprints. Enclosure is created from a custom alloy that uses 100% recycled aluminum. Very durable.
5:22 pm: Monarch: Legacy of Monsters, coming to Apple TV+ next month.
5:22 pm: There's a MacBook Pro that's perfect for you.

5:23 pm: The 14-inch MacBook Pro with M3.
The 14-inch and 16-inch MacBook Pro with M3 Pro.
The 14-inch and 16-inch MacBook Pro with M3 Max.
5:24 pm: There are Halloween-themed easter eggs all over this video.

5:24 pm:

5:25 pm: 14-inch MacBook Pro starts at $1599. 16-inch starts at $2499.
Order today, models with M3 and M3 Pro available next week. M3 Max available later in November.

5:25 pm: We're not done... we have another big treat for our users.

5:25 pm: The 24-inch ‌iMac‌ is being updated with the M3 chip.
5:26 pm: ‌iMac‌ keeps the same impossibly thin design and 7 vibrant colors.
5:26 pm: Up to 2x faster than ‌iMac‌ with ‌M1‌.

5:26 pm: For those upgrading from an Intel-based ‌iMac‌, you'll experience a huge difference in performance and features. Versus 27-inch models, it's up to 2.5x faster. Compared to most powerful 21.5-inch ‌iMac‌, up to 4.5x faster.
5:27 pm: 24-inch 4.5K Retina Display is perfect upgrade from 21.5- or 27-inch ‌iMac‌.


5:28 pm: ‌iMac‌ starts at $1299, order today, available next week.
5:29 pm: Tim is back. "There's never been a better time to experience a Mac."
5:30 pm: "Taking the best pro laptops in the world and making it even better. The world's best all-in-one becomes even more powerful and more capable."
5:30 pm: "This deep integration is something only Apple can deliver."

5:30 pm: "And we'll never stop innovating. This will shift the way we look at technology and the role it plays for years to come. Thank you all for joining us. Have a great night."
5:31 pm: At the end, a title card notes that "This event was shot on iPhone and edited on a Mac", with a note at the bottom saying it was an iPhone 15 Pro Max.
5:32 pm: Over in just half an hour, it was scary fast. New M3, M3 Pro, and M3 Max chips, in updated versions of the 14-inch MacBook Pro, 16-inch MacBook Pro, and the 24-inch ‌iMac‌.