Apple Planning System for Retail Stores to Update iPhone Software With No Need to Open Box
Apple is planning to implement an innovative new system that allows retail store staff to wirelessly update iPhones inside their sealed boxes, according to Bloomberg's Mark Gurman.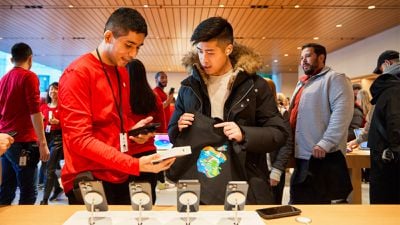 In the most recent "Power On" newsletter, Gurman outlined how Apple plans to tackle brand new iPhones being sold in retail stores with outdated software. For example, the iPhone 15 lineup shipped with iOS 17, but iOS 17.0.1 was already available upon its launch and the devices required a update to iOS 17.0.2 to fix an issue that prevented the transfer of data directly from another iPhone during the setup process.
Apple wants customers to receive iPhones with the latest version of iOS to avoid users having to update themselves, especially if important updates have been pushed to address high-profile bugs. Before the end of the next year, Apple will apparently provide a new system to retail stores to address this. It features a "proprietary pad-like device" that retail store staff can place a sealed ‌iPhone‌ box on top of. The system then wirelessly turns on the ‌iPhone‌, updates its software to the latest version, and powers it off, with no need to open the device's packaging.