Warning: Update Your iPhone 15 to iOS 17.0.2 Before Transferring Data From Another iPhone
If you are unboxing an iPhone 15, iPhone 15 Plus, iPhone 15 Pro, or iPhone 15 Pro Max today, make sure to update the device to iOS 17.0.2 before transferring data to the device from another iPhone, or else you might encounter issues.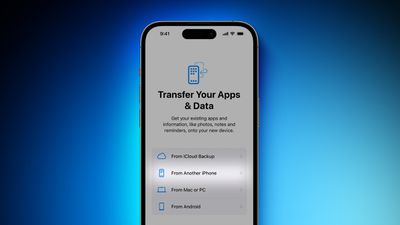 iOS 17.0.2 is only available for the iPhone 15 lineup. Apple says the update fixes an issue that may prevent transferring data directly from another iPhone during the device setup process, so installing it is very important. The update should appear during the setup process, or it can be installed via the Settings app under General → Software Update if you proceeded to set up the device as new and transfer data later.
If you already attempted to transfer data from another iPhone before updating to iOS 17.0.2, and your iPhone 15 is now stuck showing an Apple logo, Apple has shared a new support document with steps on how to restore the iPhone:
1. Connect your new iPhone to a computer with a cable.
2. Press and quickly release the volume up button. Press and quickly release the volume down button. Then, press and hold the side button.
3. Continue to hold while the Apple logo appears and don't let go until an image of a computer and cable appears.
4. On your computer, locate your new iPhone in the Finder or in iTunes.
5. Choose Restore when you see the option to Restore or Update.
After restoring the iPhone 15 and updating it to iOS 17.0.2, the process of transferring data from another iPhone can be restarted.
PSA for anyone picking up their 15 today: Update to iOS 17.0.2 before doing a direct iPhone to iPhone data transfer Apple warns that you shouldn't do it on the installed build out of the box, although technically possible pic.twitter.com/TTm2uIWmau — Michael Burkhardt (@mbrkhrdt) September 22, 2023