Tim Cook Touts 'Incredible' Response to Apple Card Savings Account on iPhone
Apple CEO Tim Cook this week said initial response to the new Apple Card Savings feature has been "incredible" following its launch last month.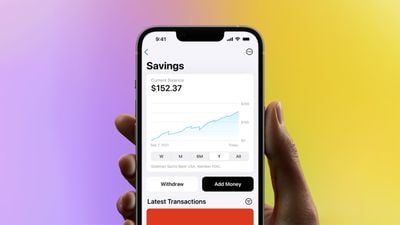 Speaking on Apple's quarterly earnings call, Cook said both the savings account and the new Apple Pay Later financing feature help customers to live a "healthier financial life," adding that he is "very excited about the first days of both of them."
Apple Card users can now open a high-yield savings account from Goldman Sachs and start earning interest on their Daily Cash cashback balance and other deposited money, with no fees or minimum balance requirement. The account currently offers a 4.15% APY, a rate Apple said was "more than 10 times the national average" as of late March. The account can be set up and completely managed in the Wallet app on the iPhone.
Forbes this week reported that around 240,000 Apple Card savings accounts were opened in the first week, citing sources familiar with the matter.
The U.S. Federal Reserve raised its benchmark interest rate by 0.25 percentage points on Wednesday, but the Apple Card savings account's APY remains unchanged for now. It's unclear if or when Goldman Sachs will increase the account's APY in response to the rate hike, as many other banks offering high-yield savings accounts commonly do.
Apple's credit card and the savings account are available in the U.S. only.