Apple Reports 2Q 2023 Results: $24.1B Profit on $94.8B Revenue, New March Quarter Record for iPhone Revenue
Apple today announced financial results for its second fiscal quarter of 2023, which corresponds to the first calendar quarter of the year.
For the quarter, Apple posted revenue of $94.8 billion and net quarterly profit of $24.1 billion, or $1.52 per diluted share, compared to revenue of $97.3 billion and net quarterly profit of $25.0 billion, or $1.52 per diluted share, in the year-ago quarter.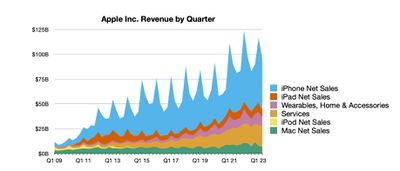 Apple set a new all-time record for Services revenue at $20.9 billion and a new March quarter record for iPhone revenue at $51.3 billion, but the Mac in particular saw a significant year-over-year decline in quarterly revenue, falling from $10.4 billion to $7.2 billion.
Gross margin for the quarter was 44.3 percent, compared to 43.7 percent in the year-ago quarter. Apple's board of directors also authorized an additional $90 billion for share repurchases and declared an increased dividend payment of $0.24 per share, up from $0.23 per share. The dividend is payable May 18 to shareholders of record as of May 15.
"We are pleased to report an all-time record in Services and a March quarter record for iPhone despite the challenging macroeconomic environment, and to have our installed base of active devices reach an all-time high," said Tim Cook, Apple's CEO. "We continue to invest for the long term and lead with our values, including making major progress toward building carbon neutral products and supply chains by 2030."
As has been the case for three years now, Apple is once again not issuing guidance for the current quarter ending in June.


Apple will provide live streaming of its fiscal Q2 2023 financial results conference call at 2:00 p.m. Pacific, and MacRumors will update this story with coverage of the conference call highlights.
Conference call recap ahead...

1:39 pm: Apple's stock price is up over 1% in after-hours trading following the earnings release, after declining by about 1% in regular trading today.
1:57 pm: We are awaiting the start of Apple's quarterly earnings call with analysts, scheduled to begin at the top of the hour. Apple CEO Tim Cook and Apple CFO Luca Maestri are expected on the call to discuss the quarter's earnings results.
2:02 pm: The earnings call is beginning with an echoing operator but perfect audio from the Apple representatives, thank goodness.
2:03 pm: Tim is giving introductory remarks. Announcing revenue of $94 billion for the March quarter, better than expected. Set an all-time record for services, and a March quarter record for ‌iPhone‌.
2:03 pm: Set quarterly records in a number of countries, and March quarter records in a number more.
2:04 pm: Mentions foreign exchange headwinds and challenges related to the macroeconomic environment. Revenue was down 3% year over year, but in constant currency, revenue grew in total and in most countries.
2:05 pm: Starting with ‌iPhone‌. Set March quarter record, and touting sales of the iPhone 14 and 14 Pro.
2:05 pm: Emergency SOS via satellite was expanded to six new countries in the quarter, 12 countries total.
2:06 pm: Mac was in line with expectations, as Mac faced a difficult year over year compare from M1 lineup launches last year. Mac is facing foreign exchange and macro headwinds, but advancements made in power-efficient performance continues to "amaze" our users.
2:07 pm: iPad revenue was in line with expectations. ‌iPad‌ revenue performance was impacted by macroeconomic challenges and FX headwinds, and difficult compare with last year thanks to the M1-powered iPad Air.
2:08 pm: Apple Watch has become more and more indispensable to many users. Apple Watch Ultra is attracting adventures, athletes, and everyday users. Summer travel season is perfect for AirPods.
2:08 pm: Services set an all-time record. Revenue records across App Store, Apple Music, iCloud, and payment services. 975 million paid subscriptions. Reaching even more people with the lineup of services. Apple TV+ draws praise from customers and reviewers.
2:08 pm: Touting the new Martin Scorsese film coming to AppleTV+ later this year.
2:09 pm: First season of the Major League Soccer partnership is underway.
2:09 pm: Friday Night Baseball is back, too.
2:09 pm: ‌Apple Music‌ Classical launched.
2:10 pm: Apple Pay Later launched.
2:10 pm: And Apple Card Savings!
2:11 pm: At Apple, our customers are at the center of everything we do. We're constantly innovating to deliver exceptional experiences and meet our customers where they are. Launched Shop With A Specialist over video. Just opened the first two Apple Retail Stores in India, in Mumbai and Delhi.
2:12 pm: Apple is investing in education to give students the skills they need to shape the future, and create pathways for communities of color through Apple's equity and justice initiatives.
2:13 pm: Look no further than what we're doing for the environment. Just celebrated Earth Day in April, and Apple announced that its global manufacturing partners support 13 gigawatts of renewable energy, the equivalent of removing 3.8 million cars from the road.
2:13 pm: Apple aims to be carbon neutral across the supply chain and life cycle of its devices by 2030.
2:14 pm: CFO Luca Maestri is now on the call to talk more in depth about earnings.
2:14 pm: Foreign Exchange had an incredible negative impact of more than 5 percentage points on results.
2:15 pm: Apple set March quarter records in Australia, Canada, Spain, and Switzerland among others. $73.9 billion product revenue due to challenging compare from Mac and ‌iPad‌. ‌iPhone‌ set a March quarter record.
2:15 pm: Installed base of active devices grew thanks to high levels of customer sat and loyalty, and reached an all-time high across all major product categories and geographies.
2:16 pm: $20.9 billion for services, up 5% year over year. All-time record in Greater China, March record in Americas, Europe, and AsiaPac
2:16 pm: Margin growth was driven by cost savings, favorable mix shift towards services. Product margin was 36.7% due to seasonal loss of leverage offset by favorable costs. 71% services gross margin. $13.7 billion operating expenses and continued to decelerate from the December quarter. Closely managing spend and focusing on long term growth, investing in innovation and product development.
2:17 pm: ‌iPhone 14‌ family has 99% customer satisfaction.
2:18 pm: Mac revenue was driven by challenging macroeconomic environment, plus ‌M1‌ MacBook Pro compare from last year. Install base of active Macs reached an all-time high across all segments.
2:18 pm: Mac survey customer sat at 96%.
2:19 pm: ‌iPad‌ install base reached a new all-time high across all geographies thanks to customer loyalty and a high number of new customers. Over half of ‌iPad‌ customers were new to the product.
2:19 pm: Wearables, Home and Accessories was down 1% year over year, as the category experienced macro impacts. March quarter records in the US and greater China. Strength in Watch install base which set a new record. Nearly 2/3 of Apple Watch customers were new to the product.
2:20 pm: Services set new records, but certain offerings including digital advertising and mobile gaming are affected by the macro environment. Continued growth in services reflects ecosystem strength. Growing installed base of more than 2 billion active devices allows for more expansion of the ecosystem.
2:21 pm: Paid subscriptions showed strong growth with more than 975 million paid subscriptions across Services on the platform, up 150 million during the last 12 months and nearly double the number of subs from three years ago.
2:21 pm: Turning to the enterprise market, business customers are expanding their use of Apple's platforms.
2:22 pm: In small business, we see an increasing number of customers relying on Apple products and services.
2:23 pm: $166 billion in cash, repaid $2.3 billion in maturing debt, and increased commercial paper by $300 million. Total debt of $110 billion. Net cash is $57 billion at the end of the quarter. During the March quarter, we returned $23 billion to shareholders. $19.1 billion through open market repurchases of 129 million Apple shares.
2:23 pm: $90 billion for share repurchases have been authorized, and raising the dividend by 4% to $0.24 per share with plans for annual increases in the dividend going forward.
2:24 pm: June quarter year over year revenue to be similar to March quarter assuming macro outlook does not worsen for what is being projected. FX will continue to be a headwind, with a nearly 4% affect on revenue. June quarter growth to be similar to March quarter. Macro to affect digital advertising and mobile gaming. Gross margin to be between 44 and 44.5%, opex to be $13.6 and $13.8 billion, OINE to be around -$250 million, tax rate of around 16%.
2:25 pm: Reflecting dividend increase, cash dividend of $0.24/share payable on May 18.
2:25 pm: The Q&A session is beginning.
2:26 pm: Q: How do you feel about deferral of demand vs destruction of demand thanks to supply issues? Did they defer purchases to March or June or did they decide not to purchase?
A: It's hard to quantify this, but we believe we captured some amount of sales in the March quarter. We saw ‌iPhone‌ performance accelerate in the quarter. Production levels for the quarter were where we wanted them to be so supply was not an issue during Q2.
2:28 pm: Q: 3 or 4 quarters that you've mentioned emerging markets like India and others, it's clearly an important market for you. Can you talk about why you see India as such an important market and what you have to do within the country to ensure that India becomes a more material mix of the business?
A: Looking at the business in India, set a quarterly record and grew strong double digits year over year. Quite a good quarter for us. Taking a step back, India is an incredibly exciting market. It's a major focus for us, I was just there, the dynamism in the market, the vibrancy is unbelievable. Over time, we've been expanding our operations there to serve more customers. 3 years ago we launched the Apple Store online. Launched two stores just a few weeks ago and they're off to a great start. Partnering with channel folks there, too. Couldn't be more delighted and excited for the enthusiasm I'm seeing for the brand there. A lot of people coming into the middle class and I feel India is at a tipping point.
2:29 pm: Records set in a number of emerging markets including Indonesia, Mexico, the Phillippines, Saudi Arabia, UAE. Quarterly records in Brazil, India and Malaysia. Great quarter for emerging markets in general despite currency headwinds. Putting efforts in a number of these markets. Dynamics of demographics and our low share, we see great opportunity in those markets.
2:31 pm: Q: Encouraging to hear about record install base across ‌iPhone‌ and all devices. Double-digit growth across devices over past few years, should we think about the install base that way going forward. For ‌iPhone‌ install base, how do you think about growth there, regionally or by first smartphone vs switchers?
A: Install base of active devices, more than 2 billion. In January we passed that. This quarter, Q2, set new records across each geographic segments and across product categories. Despite declines in current quarter sales in Mac and ‌iPad‌. This is a huge asset for us, it's a testament to the overall customer satisfaction, engagement and loyalty to our customers. We view this as a major asset. ‌iPhone‌ base is more than 1 billion active devices. We see this as, upgrade rates and these sorts of things may change quarter to quarter depending on macro trends, but if you back up and look at the install base, we feel great about the size of it and the rate that it's growing.
2:32 pm: Q: Number of devices per ‌iPhone‌ user continues to grow, can you talk about the opportunity to increase the number of devices per ‌iPhone‌ user, and how does monetization per user change between superuser and those not as deep in to the ecosystem.
A: We design our products to work seamlessly together, Watch or Mac, start on one device and finish on the other. Lots of users have multiple devices, and we have a lot of customer loyalty and satisfaction thanks to the work the engineering teams do on our products.
2:34 pm: Q: Can you talk a little bit about AI? Topic of the day, topic of the year. How do you use it and can you talk about thoughts on generative AI and where you see it going.
A: Don't comment on product roadmaps, but I do think it's very important to be deliberative and thoughtful in how you approach these things. THere are a number of issues that need to be sorted. The potential is VERY interesting. We've obviously made enormous progress integrating AI and machine learning and we've been weaving it into products and services.
See that in Fall Detection and Crash Detection, ECG, these aren't just great features but they're saving lives out there. We view AI as huge. We'll continue weaving it in our products on a very thoughtful basis.
2:36 pm: Q: You have a tight network in China, so how is it going to move to these other regions? Are you seeing impact from margin perspective, do you have any thoughts as you've seen to shift more growth or production outside of China?
A: Our supply chain is truly global. We're investing all over the world. Investing in the US and a number of other countries as well. We make products everywhere, we invest everywhere. Continuing to optimize the supply chain based on what we learn every day and week. Ensure we can deliver the best products and services for our customers.
Step back and look at how we've performed on supply chain over the last 3 years, despite the parade of horribles between the pandemic and chip shortage and macro factors, the supply chain has been incredibly resilient. We feel good about what we are and what our plans are.
2:37 pm: Q: On December quarter, you said Pro model iPhones were constrained. Did you see a catch up in March or was the mix better than typical? Do you see it being more typical?
A: It's hard to quantify but we do believe we did recapture some amount of sales in the March quarter. We had to set the channel at the right levels and we're comfortable with the channel inventory that we have on a forward basis. We do think there was some but it's difficult to quantify.
2:39 pm: Q: So many new services, do you look at the payments ecosystem as a standalone revenue opportunity or is it to make devices more inseparable?
A: Like we've done on the Watch where we focus on helping people live a healthier day, on our financial products we're helping people have better financial health. Things like the ‌Apple Card‌ and the fact that it has no fees, savings account which has a very attractive yield. We're trying to help our users and these things have to stand on their own. We're very user focused and we're listening to them, what things provide them pinch points and orchestrate our roadmaps around that. Buy now, pay later is another one that we've just gotten out of the chute. On savings accounts specifically, we are very pleased with the initial response. It's been incredible.
2:41 pm: Q: I'd like to go back and dig into the restocking of inventory in the channel, vs demand that might be a bit softer from the larger carriers that exhibited weak upgrade rates. What demand signals are you seeing vs a month or three months ago? Is there an acceleration in demand that you can share?
A: I don't want to go into what we're seeing in Q3 other than the guidance that Luca has given, but for Q2 you're probably referencing primarily US carriers and if you look at our geographic distribution of our performance, it was lower in the Americas which is primarily the United States. A part of that, I believe, is macro. A part is more promotional activity in the year ago quarter. I think that's what you're seeing there.
Where our results were really stellar during this quarter was really in emerging markets. We couldn't be prouder of the results that we had there.
2:42 pm: Q: On services, are you seeing anything in terms of consumer behavior aside from tough comps, digital advertising and mobile gaming. Do you see anything changing, time spent with an Apple service, hopefully past covid. How is user behavior changing over the last 6 months?
A: As you said, of course we got the issue around the macro environment particularly in ads and mobile gaming. Outside of those areas, behavior of customers continues to be pretty consistent. Doing well in some of the services we've launched more recently, like payments. Our growth rates are very strong. As the adoption of ‌Apple Pay‌ and ‌Apple Card‌, Services that Tim mentioned, adoption continues to increase. Cloud continues to grow very consistently. Users want to store more photos and videos and content on their devices, so they adopt our cloud services. In general, the model in the ‌App Store‌ around paid subscriptions continues to grow very strongly. More than 975 million paid subs. More than 2x what we had 3 years ago. Growth is very strong.
2:44 pm: Q: Pre-pandemic on Services, growth rate was in the mid-teens. Growth rates, even backing out FX, is low double digits. Question from investors, as install base growth has accelerated, are there more cyclical drivers depressing growth or more of a roll out on monetization to get back to those growth levels?
A: The areas where we are seeing the impact on the macro environment is digital advertising, as you know. The macro environment is not helping on that front. And mobile gaming, where we've seen a bit of a slow down partly due to macro and partly due to elevated usage during covid years. Outside of those areas, we see very healthy growth rates.
2:46 pm: Q: Macro question... macro is not helpful at this point, but what you're implying in terms of guide is momentum for your products guides to something pretty stable. What do you see in terms of customer spending trends and does consumer deteriorate in terms of spending patterns? Where is the consumer versus your products?
A: Part of it is what Tim was talking about. Great momentum in emerging markets, where our share is low and we can grow over time. Help with install base, add a lot of switchers, increases the install base over the longer term. Helps to monetize with services too.
2:48 pm: Q: Margins are holding up, what's driving the strength sequentially, now 50 basis points of guidance, typically 100. What does that mean?
A: We are guiding to a fairly stable level of gross margin at a very high level. Happy with them this cycle. For the first time in several quarters, we expect FX to be flat on a sequential basis at the gross margin level. Still a headwind on a revenue level. Sequentially, expect FX to not be a factor. We have guided to 50bp of range before. Late in the calendar year, a bit more visibility.
2:48 pm: Q: Will India be similar to China or is it different?
A: Each country is different and has their own journey. I hesitate to compare too much. What I do see in India is a lot of people entering the middle class. I'm hopeful that we can convince some number of them to buy an ‌iPhone‌. We'll see how that works out. Right now it's working out well.
2:50 pm: Q: ‌iPhone‌ and ‌iPad‌ in corporate applications, can you segment corporate vs consumer spending, and across ‌iPhone‌, ‌iPad‌, etc?
A: Internally we have our estimates for how much is enterprise vs consumer, and the enterprise business is taking over. We've been focusing a lot on BYOD programs, and more and more programs and companies leaning into those and giving employees the ability to select. That plays to our benefit, I think a lot of people want to use a Mac or ‌iPad‌ at work. But we're primarily a consumer company in terms of revenue, obviously.
2:51 pm: Q: You hope to convert a lot of people into ‌iPhone‌ in India, where is the biggest opportunity? Primarily ‌iPhone‌, ‌iPad‌, Wearables, or is there services opportunity in India long term as well?
A: Opportunity long term as well, including in services. ARPUs are lower in India for TV and movie streaming, music, ARPU are much lower than other regions. But over the long arc of time, there's good opportunity across the board.
2:54 pm: Q: As we think about the reopening attributes of China, how would you characterize the shaping of demand across the last quarter? What's the impact of that reopening over the next couple quarters?
A: If you look at China, our revenue came in at -3% for the quarter year over year, but grew on a constant currency basis and accelerated as compared to the December quarter which had 14 weeks and was -7% on recorded basis. We were pleased with how we did and with the acceleration we saw with the reopening. We'll see how we do this quarter. If you look at the top-selling smartphones in Urban China based on a survey, we have 4 of the top 5 smartphones. I think in all of the third-party data I've seen on the market itself in the smartphone space, we believe we gained share during Q2. We feel good about it.
China has a lot of very good metrics in terms of new buyers. On the Mac, 6 out of 10 customers are buying it for the first time. Same on ‌iPad‌. On Watch it's more than 3 out of 4. The buyer metrics, if you will, are very, very good. Our services business hit an all-time record in China during the quarter.
2:54 pm: Q: You talk about FX and the lessening impact there, mixed attributes, on the current environment how would you characterize the component pricing dynamics?
A: environment on the component side is favorable. Prices have declined during the March quarter and we expect the same during the June quarter.
2:56 pm: Q: It looks like things are slowing down quite a bit elsewhere, can you give some color on what you're seeing?
A: We expect our performance during the June quarter at the revenue level to be similar to the one that we just reported for March. Keep in mind, we always have differences in launch timing across our products and also that over the last few years, we've seen a certain amount of supply disruptions. Sometimes covid or related to specific component shortages. Just to remind you, in the June quarter a year ago, we had full-quarter impact of the launch of the iPhone SE and the ‌iPad Air‌. Leads to a more difficult compare. Important to keep those in mind.
2:57 pm: Q: How will finance grow over the next few quarters?
A: Feedback on Savings and Pay Later has been good, excited for first days of both of them.
2:58 pm: Q: Tim, you're one of the largest chip companies, but we almost never hear in any context of you guys being a beneficiary for either the Chip Act money or R&D tax credit, are you eligible for any of those?
A: I don't see Apple participating in the Chips Act directly, but we would be a beneficiary indirectly because some of our partners would hopefully be recipients of it and therefore put in additional capacity. So, on that sort of indirect basis, we would have a benefit.
3:00 pm: Q: When you say June performance will be similar to March, I assume you mean YoY basis, with June down 2% or so. Is that right?
What do you think is the largest opportunity in Services? There must be areas where you think you can do better.
A: Around June performance, yes year over year. Comparable to the March quarter.
I think we can do better on everything. I wouldn't point to one of them. Look at the number of active devices, growth of active devices, I think our services are underpenetrated in a number of different ways. The way I look at it is there's opportunity in many of them.
3:00 pm: The call has concluded.