Apple Reports 2Q 2022 Results: $25.0B Profit on $97.3B Revenue, Best March Quarter Ever
Apple today announced financial results for its second fiscal quarter of 2022, which corresponds to the first calendar quarter of the year.
For the quarter, Apple posted revenue of $97.3 billion and net quarterly profit of $25.0 billion, or $1.52 per diluted share, compared to revenue of $89.6 billion and net quarterly profit of $23.6 billion, or $1.40 per diluted share, in the year-ago quarter.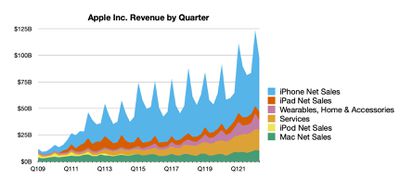 As expected, Apple's revenue and earnings set all-time records for the March quarter.
Gross margin for the quarter was 43.7 percent, compared to 42.5 percent in the year-ago quarter. Apple also declared an increased dividend payment of $0.23 per share, up from $0.22 per share. The dividend is payable May 12 to shareholders of record as of May 9.
Apple has also authorized an increase of $90 billion for its stock buyback program.
"This quarter's record results are a testament to Apple's relentless focus on innovation and our ability to create the best products and services in the world," said Tim Cook, Apple's CEO. "We are delighted to see the strong customer response to our new products, as well as the progress we're making to become carbon neutral across our supply chain and our products by 2030. We are committed, as ever, to being a force for good in the world — both in what we create and what we leave behind."
As has been the case for two years now, Apple is once again not issuing guidance for the current quarter ending in June.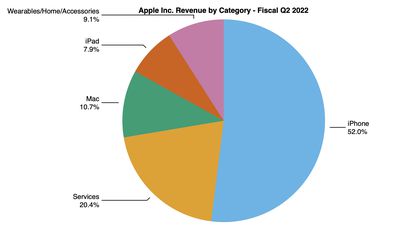 Apple will provide live streaming of its fiscal Q2 2022 financial results conference call at 2:00 p.m. Pacific, and MacRumors will update this story with coverage of the conference call highlights.
Conference call recap ahead...

1:39 pm: After rising around 4.5% in regular trading today, Apple's stock is up almost 2% more in after-hours trading following the earnings release.
1:40 pm: Apple set an all-time revenue record for Services and March quarter revenue records for iPhone, Mac, and Wearables, Home and Accessories.
1:56 pm: The earnings call between Apple executives and industry analysts should begin in four minutes. Expected on the call are Apple CEO Tim Cook and Apple CFO Luca Maestri.
2:01 pm: The call is beginning with the standard introductions and warnings about forward-looking statements.
2:02 pm: Tim has begun speaking, noting Apple has a March quarter revenue record, and best-ever March quarter in a number of categories.
2:03 pm: He is pausing to acknowledge the "humanitarian tragedy in Ukraine". The company is donating to humanitarian causes on the ground. Acknowledging how employees are coming back to the office in the US and Europe, but things continue to be difficult in China. "These times remind us that we can not know what the future may hold."
2:04 pm: Touting the performance of the Mac division, including the new Mac Studio, despite supply chain problems.
2:05 pm: He seems particularly excited about the new iPhone SE.
2:05 pm: ‌iPhone‌ revenue up 5%, thanks to strong demand for iPhone 13 family.
2:05 pm: Significant iPad supply constraints predicted at the start of the quarter continued.
2:06 pm: Now touting the new Apple Watch, AirPods, and other accessories.
2:07 pm: Services revenue grew to $19.8 billion, up 17% from a year ago. Tim notes that CODA won Best Picture at the Academy Awards, making Apple TV+ the first streaming service to win the award.
2:08 pm: Name-checking Apple Fitness and the Apple Heart & Movement Study.
2:08 pm: Arizona is the first state to bring a driver's license or state ID to Apple Wallet. More states, and the territory of Puerto Rico, are coming.
2:09 pm: New UAE Apple Retail Store in Abu Dhabi, and a third store in Seoul. In-person Today At Apple sessions returned in the US.
2:10 pm: (Note: Apple's stock price has given back all of its after-hours gains.)
2:11 pm: Now talking about Apple's diversity and inclusion work. 60% of all leadership openings were filled by people from underrepresented communities in 2021.
2:12 pm: "The twists and turns of the future may be uncertain. But what is certain is that we will never stop striving to be a force for good in the world, with everything we do and everything we are."
2:12 pm: CFO Luca Maestri on the call to talk numbers in more detail.
2:12 pm: $97.3 billion revenue, new March quarter records in Americas, Europe, and Greater China.
2:12 pm: Grew in each product category except ‌iPad‌, which was significantly supply constrained.
2:13 pm: Install base of active devices grew to all-time high in all product categories and geographic segments.
2:13 pm: 43.7% gross margin, down 10 basis points from last quarter. Loss of leverage and unfavorable foreign exchange were partially offset by favorable product mix.
2:13 pm: Services gross margin was 72.6%, up 20 basis points due to mix.
2:14 pm: $28.2 billion cash flow, $25 billion net income, earnings per share were all March quarter records.
2:14 pm: $220 billion in revenue in the first half of the financial year, records for ‌iPhone‌, Mac, Wearables/Home, Services.
2:15 pm: ‌iPhone‌ revenue up 5% YoY, $50.6 billion despite supply constraints. Strong response to ‌iPhone 13‌ family and launch of new ‌iPhone SE‌. March quarter records in developed and emerging markets. US consumer survey shows ‌iPhone‌ customer satisfaction at 99% for ‌iPhone 13‌ family.
2:15 pm: Combined with unmatched customer loyalty, install base reached a new all-time high across all geographies.
2:15 pm: $10.4 billion for Mac was March quarter record, 15% YoY growth. Strong demand for M1-powered MacBook Pro. Continued innovation and investment in Apple silicon is shown in our Mac results. Last seven quarters have been the best seven ever for Mac.
2:16 pm: Significant activity in growing install base, March quarter record for upgraders, while half of Mac buyers were new to the product.
2:16 pm: $7.6 billion ‌iPad‌ revenue, down 2% YoY due to supply constraints. M1 iPad Air drove ‌iPad‌ install base to a new high, half of ‌iPad‌ buyers were new to the product.
2:17 pm: Wearables/Home/Accessories, $8.8 billion, up 12% YoY. March quarter revenue records in developed and emerging markets. Wearables business has doubled in 3 years, and is nearly the size of a Fortune 100 business.
2:17 pm: 2/3 of Apple Watch customers are new to the product.
2:17 pm: Services, all-time record of $19.8 billion, all-time records for App Store, Music, Cloud Services, AppleCare, March records for Video, Advertising, Payment Services.
2:18 pm: Install base has continued to grow, reaching an all-time high across each geo and product category. Increased engagement with services, new accounts with subscriptions. Paid subscriptions show strong growth: 825 million paid subs across all services on the platform, up 165 million over last 12 months.
2:19 pm: Current services are improved while also launching new services. New businesses and government organizations continue to turn to Apple for the latest technologies. Alaska Airlines is replacing self-service kiosks with ‌iPad‌ Pros for faster check-in and self-bag drop.
2:19 pm: Western Australia Police Force has completed world's first deployment of CarPlay alongside iPhones.
2:19 pm: Apple Business Essentials rolled out in the US.
2:20 pm: Cash position... strong cash flow. $193 billion in cash and marketable securities. Repaid $3.8 billion in maturing debt, increased commercial paper by $2 billion. $120 billion in total debt. $73 billion in net cash. $27 billion returned to shareholders through dividends and open market repurchases of Apple shares.
2:21 pm: $90 billion for share repurchases, raising the dividend by 5% to $0.23/share. Annual increases in dividends are planned going forward.
2:22 pm: Given the uncertainty, not providing revenue guidance. But some insights, based on covid impacts not getting worse. YoY revenue performance will be impacted in the June quarter, supply constraints from covid disruptions and silicon shortages are making it difficult to meet customer demand. $4–8 billion, substantially larger than the March quarter. Some disruption on customer demand in China. 300 basis points on foreign exchange. All sales in Russia were paused in March quarter, and will impact YoY growth rate by 150 basis points.
2:23 pm: (Note: Apple stock is now slipping after hours on these predictions.)
2:23 pm: The call is being opened to questions from analysts.
2:27 pm: Q: As we see more stock market volatility, inflation, etc, what metrics are you watching in the business or at a macro level, when will you see an impact to your business on the product side?
A: We're monitoring daily sales very closely. From an inflation point, we are seeing inflation, it is or was evident in our gross margin last quarter and in our OpEx last quarter, and it is assumed in the guidance that Luca gave this quarter as well. We're definitely seeing some level of inflation that everybody is seeing.
Q: How are you thinking about how that might impact consumers in your business and their ability to purchase at the same level?
A: Monitoring that closely, but right now our main focus frankly is on the supply side.
Q: As it relates to that, in China how should we think about lockdowns from an impact on supply and on demand and what products in your portfolio should we expect to be most impacted?
A: For Q2, just finished, the restrictions in China had not started yet. We had supply constraints, they were lower than what we experienced in December quarter, driven by industry-wide silicon shortages specifically the issue I talked about previously with legacy nodes. Looking ahead, we see two causes of supply constraints. One, the COVID-related disruptions and industry-wide silicon shortages that will continue. $4–8 billion estimated, primarily centered around Shanghai corridor. On a positive front, almost all of the affected final-assembly factories have now restarted. $4-8b range reflects various ramps to get back up and running. COVID case count reported in Shanghai has decreased in the last few days so there's some reason for optimism there.
2:31 pm: Q: Americas growth was high, Europe and China was more muted. Compares are difficult, anything you'd call out in spillover effect from macro side from Russia or China?
A: In Americas, we had a very strong quarter up 19%. Europe, good quarter for us, up 5% even with pausing sales in Russia. Impact for a month of the quarter there, but a number of European countries, especially in Western Europe, did really well for us. Americas was better than expectations. China was March quarter record. This affected every segment, the different launch timing for the ‌iPhone‌ this year versus a year ago had an impact on the March quarter results so channel fill versus a year ago was different.
Japan and Asia-Pacific were affected by currency with dollar appreciating against most currencies. Difference in launch timing made a difference too. Supply constraints that we had during quarter, our results would have been better with other constraints. Felt good about performance around the world.
Q: Is this demand that's deferred or demand that's destroyed on supply constraints? Some product categories affected more than others?
A: Will affect most categories, in terms of recapture, we believe that there's a percentage of it that's recapturable and a percentage where it isn't if someone needs something quickly. That ratio, or that percentage, is very difficult to estimate. We obviously try to do that internally in order to demand plan, but it's not something that we share.
2:34 pm: Q: Supply constraints... $4–8 billion range reflects reopening of facilities during the quarter, tough to predict as you go forward into the second half of new product launch, would you expect constraints to be on the component side and if things don't get worse in China, constraints are on component and not assembly?
A: Hard to answer a question about unannounced products. The $4–8 bllion is in the Shanghai corridor, we have some final assembly plants in the area. Almost all have started up again, but we planned various ramps for these facilities and that's the range that we've estimated. COVID is difficult to predict.
Q: Regarding inflation and how Apple is dealing with it, specifically on semiconductor side, costs are going up but perhaps for different reasons. How is Apple planning to deal with that and is it possible for you to get through that without raising prices on your products or affecting gross margins?
A: Some of what you said is in the results for the last quarter that we've announced. We've put our current thinking in the guidance that Luca listed earlier. There are component costs that are falling and ones that are rising, and not all of them are moving in the same direction. We've really tried to manage to the nut of these and I think we're doing a reasonable job currently navigating a challenging environment.
2:36 pm: Q: In the past, you gave us a sense for how it would affect the product lines for supply chains, but is there an opportunity to reallocate resources to affect one line and not another?
A: It will affect most product categories, and we obviously will look to do any kind of optimization that we can do to minimize the effect on the user.
Q: ‌iPhone‌ growth in the cycle?
A: Happy with ‌iPhone‌ growth last quarter, particularly thinking about the launches in Q1 and naturally Q2 is at a different place on the product curve so it's a difficult comp. We were pleased with it. Americas geography did quite well last quarter. The US is the major geography within there, the US was quite strong last quarter.
2:41 pm: Q: You've done a great job navigating issues in the past several years. Supply chains and turmoil around the world, do you reconsider how you do the supply chain regarding just-in-time ordering or outside supply of your chips, letting $4–8 billion go away, do you consider more buffer inventory or do your own chips instead of outsourcing? How do you change strategically when the world is in a better place?
A: I'm looking forward to that day. Our supply chain is truly global, products are made everywhere. We do a lot in the US, and we'll probably be doing even more here as more chips are produced here. We learn something every day and make changes but when you back up and zoom out and look to see how the supply chain has done within the environment, I think it's been very resilient. The top issue is the silicon shortage that everybody is struggling with and managing through the COVID piece of it. We're learning and making some changes as we go, we don't have a tin ear. To the degree that we learn something that we should change, you can bet we're doing that.
In this business, you don't want to hold a ton of inventory. You want to work on cycle times and so forth to do things very quickly, and take strategic inventory in places where you need to buffer for interruptions and so forth. We're constantly thinking about where those places are. In today's world, it's not really possible for us to have buffer on silicon. Today, silicon rolls off the fab and it's into a final assembly plant very quickly. We try to make that as short a time as possible.
Q: We've been talking about supply chain issues for multiple quarters. Are you hearing that latter half of this year or calendar 2023 for closer equilibrium?
A: That entails knowing how worldwide demand and supply are. For the whole industry, I don't claim to be an expert and it's heavily influenced by how strong economies are in different markets. There are varying levels of outcomes but what we're focused on is trying to do very well regardless of how that question is answered.
2:46 pm: Q: You talked about ‌iPhone SE‌ demand, can you compare what you're seeing in momentum to previous ‌iPhone SE‌ cycles. What are you seeing in demand by geography?
A: We don't get to that level of granularity because we view it to be sensitive data that competitors would love to have, I'll punt on answering that question. When you zoom out and look at ‌iPhone‌ as a total, we could not be happier with the ‌iPhone 13‌ family of products and the strength we've seen for this cycle. Those products have powered the line and given us the results we've had on ‌iPhone‌. Revenue of $120 billion for first half of the fiscal year. Feel good about those results.
Q: Seen a settling in for growth rate on Services, gross margin settling at 72% range. Lot of moving pieces beneath that, but is it a good range for services longer term or are there moving pieces that scale that can have more upside?
A: We feel great about momentum for services. For absolute numbers, run rate of almost $20 billion is double what we had four years ago. We've done really well with services. We have a lot of momentum for a variety of reasons. Install base of active devices continues to grow very nicely. This is a big engine for services. The level of engagement we see on our platform continues to grow. We have more transacting accounts, more paying accounts, more accounts with subscriptions. The amount of paid subscriptions on our platform, 825 million, is up 165 million in last year. Great growth. Added a lot of new services.
We plan to add new services and features that we believe our customers will love. Growth rates can change, especially during COVID. Lockdowns, reopenings, comps can be deceiving. Margins are accreted to company margins, we feel good about it. Growth rate for June, we expect it to be less than 17% from March quarter. FX, and paused sales in Russia. Take that into account, but in general we set all-time records and quarterly records for various categories.
2:48 pm: Q: On supply constraints and revenue guidance, do you think the last three quarters Apple's supply chain had a better buffer inventory of semiconductors and now you're tied to the true supply constraints of legacies or is there something else going on?
A: During COVID, things changed over quarters. During March, constraints were limited to silicon shortages. When we are giving out range of $4–8 billion, it's not just silicon but also restrictions in China. They are different, additional constraints at this point that we are seeing because of COVID situation. That is the fundamental difference there.
Q: As a quick follow-up, especially in places like China, have you seen app stores or services affected positively or is it too soon to tell?
A: Too early. Restrictions in China started at the end of March, so it's very early.
2:53 pm: A: Supply constraints are affected by COVID disruptions and silicon shortages. That's what's creating the constraints. With respect to FX, we expect it to be nearly 300 basis points headwind. Was 200 basis points headwind during March quarter. For Russia, the impact on YoY basis is approximately 150 basis points, that reflects three months of the quarter. We paused sales in Russia at the beginning of March so it was a partial impact on the March quarter on a sequential basis it was an incremental factor to keep in mind.
On the positive side, demand for products and services is solid, and as Tim has mentioned the ‌iPhone 13‌ family is having a really strong year. Top selling smartphones, we've had pretty incredible results. Top six models in the US, top four in Japan, five of top six in Urban China. ‌iPhone 13‌ has been a global success. As you know and can tell, most of the ‌iPad‌ and Mac models are constrained today and have been constrained for several quarters because demand is very good. Services is growing double digits. That's what gives us confidence for the June quarter and going forward.
Q: You're in an enviable place of being far from your net cash neutral objective, but generating cash flow year after year, $90 billion is 3% of market cap and there are a lot of assets that have a lot of synergies with Apple in health care space or content or fitness. Why is this not the right time to look at buying assets instead of buying stock or in addition to?
A: We would only acquire something strategic. Acquire a lot of smaller companies today, and we would continue to do that for IP and great talent, but we don't discount doing something larger either if the opportunity presents itself. I don't want to go through my list with you on the phone but we're always looking.
2:54 pm: Q: Regarding Mac, we're noticing that lead times are longer for Macs ordered today. Many not shipping until June. How much of that is strong March results with product launch and sellout vs real tightness in supply chain. When might you get Mac lead times back to within a week?
A: Working hard. Got lots of customers that we want to get new Macs to, working hard on them. They are a result of a combination of COVID disruptions and silicon shortages, but when we might remedy that, we're not really forecasting when we can be out of the silicon shortage so that would be a difficult answer. The COVID piece of it I hope is transitory kind of issue. I would hope that it would get better over time.
2:58 pm: Q: What are you seeing of late with freight and geographic production footprint and evolutions? Services sales to enterprise?
A: Services is to final consumer mostly, but enterprise is a great opportunity. Apple Business Essentials launched... support to small and medium business in terms of 24/7 support, device management. We think more companies will value and appreciate this. Sell ‌AppleCare‌ to enterprise today. Enterprise is a very interesting market for us and we're putting a lot of effort and focus on it. Have really good opportunities to grow.
Regarding freight, it's a huge challenge today both from an inflationary point of view and from an availability point of view. Right now the focus is on moving the freight to customers any way that we can do that. Over time, we'll do that much more efficiently and I would hope that the fundamental rates reset some and both ocean and air on that. Both have come under some significant inflationary pressure partly due to COVID and some other reasons as well I would guess. In terms of geographic production, we are constantly making tweaks here and there and I don't want to go into the details, but we constantly are making moves to optimize in the current environment.
2:58 pm: The call is complete!