Gurman: Widgets to Be 'Central Part' of watchOS 10's Interface
watchOS 10 will introduce an all-new system of widgets for interacting with the Apple Watch, according to Bloomberg's Mark Gurman.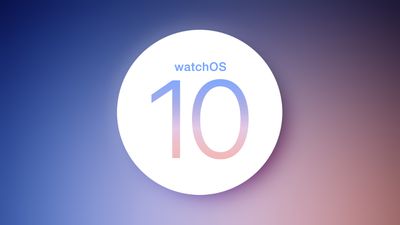 In the latest edition of his "Power On" newsletter, Gurman explained that widgets will become a "central part" of the Apple Watch's interface with ‌watchOS 10‌. He compared the new system to Glances, the widgets interface that launched on the original Apple Watch before being scrapped within a few years, and the style of widgets that iOS 14 brought to the iPhone.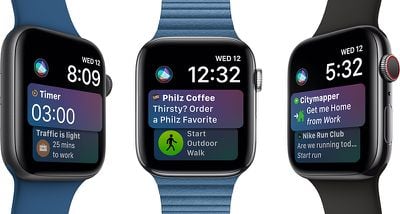 The Siri watch face introduced in watchOS 4.
The new interface will apparently be "reminiscent" of the ‌Siri‌ watch face that was introduced in watchOS 4, but as an overlay for any Apple Watch face. "It's also similar to widget stacks, a feature in iOS and iPadOS that lets users pile many widgets into one and scroll through them," Gurman added.
The plan is to let users scroll through a series of different widgets — for activity tracking, weather, stock tickers, calendar appointments and more — rather than having them launch apps.
Apple is also apparently testing changes to the functions performed by the Apple Watch's buttons. For example, a press of the Digital Crown may now launch the new widgets view, rather than navigate to the home screen.
Gurman believes that the move is an admission that an iPhone-like app experience "doesn't always make sense on a watch" since "Apple Watch apps have barely caught on." Due to being a radical departure from the app-centric experience existing Apple Watch users are used to, Apple may make the new interface optional.
The changes are part of what Gurman claims will be one of the Apple Watch's biggest software updates since its introduction and the most significant change to the Apple Watch this year, as only minor hardware updates are expected to be unveiled later this year.