Will Apple Release a New iPad Mini in 2023? [Updated]
Apple launched the sixth-generation iPad mini in September 2021, bringing the first major redesign to the device in its entire history. Like the 11th-generation iPad, a chip upgrade is the most certain feature coming to the next ‌iPad mini‌ – an aspect supported by recent reports.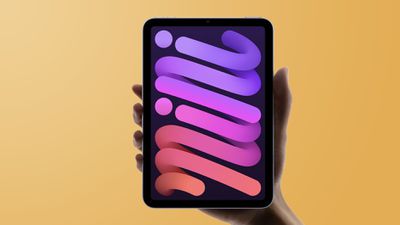 The ‌iPad mini‌ currently contains the A15 Bionic. While it is slightly downclocked, the A15 Bionic puts the ‌iPad mini‌ on a level footing with the iPhone 13 mini, ‌iPhone 13‌, third-generation iPhone SE, iPhone 14, ‌iPhone 14‌ Plus, and third-generation Apple TV 4K. These six devices with the A15 chip are expected to remain on sale throughout 2023, meaning that the chip is likely to remain quite prevalent in Apple's product lineups.
As a result, the current ‌iPad mini‌ will contain relatively modern chip hardware throughout the entirety of this year. With features like second-generation Apple Pencil support and Center Stage, there is no pressing need to update the device this year and it is not clear what a new model could offer.
While Apple updated the ‌iPad mini‌ annually from 2012 to 2016, updates thereafter became more infrequent, with just one minor refresh in March 2019 before 2021's redesign. As a device that now seems to stick around for longer in between updates, a hardware refresh in 2023 is not certain, but the seventh-generation ‌iPad mini‌ is the only ‌iPad‌ model actively rumored to potentially launch this year.
Apple analyst Ming-Chi Kuo said in December that the seventh-generation ‌iPad‌ will begin mass shipments towards the end of 2023 or in the first half of 2024. Most recently, Kuo said mass production is now likely to start in the first quarter of 2024, so while it could still be unveiled this year, 2024 seems most likely. There have been no other concrete rumors about the new ‌iPad mini‌ as yet, but Bloomberg's Mark Gurman recently said that an update this year with a minor "spec bump" is not out of the question.

2023 appears to be shaping up to be a quiet year for ‌iPad‌ hardware refreshes, and while it is possible we could see some new models, the current picture suggests that new iPads this year are unlikely on the whole. 2024, on the other hand, is looking like it will be a much more significant year for the ‌iPad‌ lineup.