Intel Launches 'World's Fastest Mobile Processor' With 24 Cores
Intel today announced the launch of its 13th-generation processor lineup, which is headlined by the flagship Intel Core i9-13980HX, a 24-core 5.6GHz laptop chip that Intel says is the "world's fastest mobile processor" in terms of clock speed.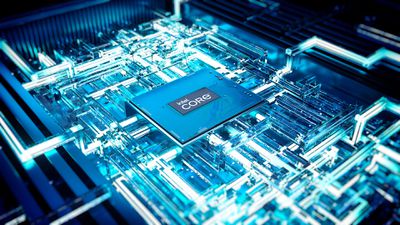 Apple no longer uses Intel chips in its Macs, with the exception of the Mac mini and the yet-to-be-updated Mac Pro with Intel Xeon chips, but Intel is now a direct competitor, supplying processors that compete with Apple's own M-series Apple silicon chips.
Intel claims that the 5.6GHz turbo boost clock speed of the new Core i9 chip is the fastest mobile processor as of December 2022, with 11 percent faster single-thread performance and 49 percent faster multitask performance over the prior-generation Intel Core i9-12900HK chip. The Intel Core i9-13980HX features eight performance cores, 16 efficient cores, and 32 threads, along with support for up to 128GB RAM.
The prior-generation chip outperforms everything but the M1 Ultra on multi-core Geekbench benchmarking tests (barely beating out the M1 Max), but it cannot compare when it comes to power efficiency as Apple silicon chips consume much less energy. The new Intel Core i9-13980HX from Intel will likely be faster than current Apple silicon chips, but designed for performance-focused power-hungry laptops that do not directly compete with Apple's Mac lineup.
It is worth noting that Intel has long offered faster turbo boost clock speeds than Apple silicon chips, as the M2 reaches just 3.5GHz. Intel last year made the same "fastest mobile processor" claims for the Intel Core i9-12900HK, comparing it to the ‌M1 Max‌, but it did get beat by the ‌M1 Ultra‌ that Apple debuted later in the year. Apple is working on ‌M2‌ Pro, Max, and Ultra chips that could better compete with the 2022 Intel Core i9-13980HX.
Intel today also announced the launch of a suite of more efficient 13th-generation P-series and U-series chips with up to 14 cores that will be available for thinner, lighter laptops.