Apple Patents Apple Pencil That Can Sample Colors From Real-World Surfaces
Apple has patented a possible next-generation Apple Pencil that can sample colors from the real world and then input that same color onto an iPad, as well as other features, including the ability to sample textures.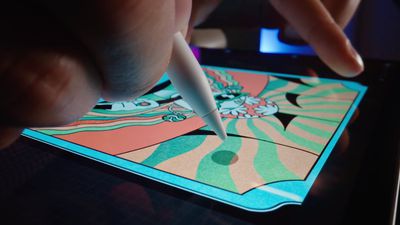 The patent, reported by Patently Apple, describes an ‌Apple Pencil‌ with color sensors built into the tip of the pencil that can sample the surface of real-world objects and detect their color. Images in the patent show the ‌Apple Pencil‌ may come with a built-in light ambient sensor, light emitter, and a light detector that can detect the color and texture of a surface.
Like with all patents, it doesn't reveal when such a feature or product will launch, if ever. Apple filed a patent for a similar feature in June 2020, and three years later, no such update to the ‌Apple Pencil‌ has been made. The second-generation ‌Apple Pencil‌ was announced in 2018, with no clear indication of when a third-generation model could debut.
Apple has added new capabilities to the ‌Apple Pencil‌ with improved ‌iPad‌ hardware and new iPadOS features. For example, the new M2 iPad Pro has a feature called Apple Pencil hover, allowing users to hover the pencil over the ‌iPad‌ to know where exactly the ‌Apple Pencil‌ will touch the display.