Apple Watch SE 2 to Bring Top-Tier Chip to Budget Model for First Time
The Apple Watch SE could gain the same chip as the flagship Apple Watch for the first time later this year, according to a recent report from Bloomberg's Mark Gurman.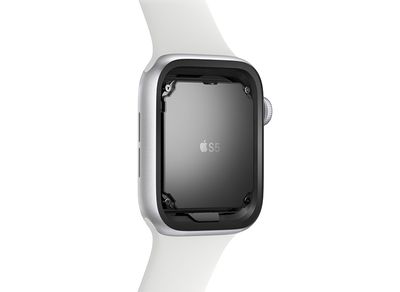 The first-generation ‌Apple Watch SE‌'s S5 chip.
When the first-generation ‌Apple Watch SE‌ launched alongside the Apple Watch Series 6, it featured the S5 chip from the Apple Watch Series 5, while the Series 6 offered the S6 chip. Gurman explained that the "S8" chip, destined for this year's flagship new Apple Watch, the Apple Watch Series 8, may also come to the second-generation ‌Apple Watch SE‌.
The S8 chip will reportedly feature the same specifications as the S6 and S7 chips, which may explain why Apple could upgrade the ‌Apple Watch SE‌ to its latest processor. Indeed, since all of the chips that are newer than the ‌Apple Watch SE‌'s current processor are effectively the same, it will make no material difference whether it has the S6, S7, or S8. It may simply be more economical for Apple to manufacture the exact same chip rather than maintain only slightly different older chips for use in entry-level devices such as the ‌Apple Watch SE‌.
Apple is believed to be working on three new Apple Watch models to launch this year, including the Apple Watch Series 8, the second-generation ‌Apple Watch SE‌, and a new, ruggedized Apple Watch "Explorer Edition."
Gurman added that the S8 chip will come to a new HomePod model next year. Apple discontinued the HomePod in March 2021 to focus on the HomePod mini and due to lackluster sales, but Gurman and Apple analyst Ming-Chi Kuo report that Apple is planning to revive the device with an updated model.