Filmic's New DoubleTake App Lets iPhone Users Shoot Video From Multiple Cameras Simultaneously
Filmic today released its DoubleTake camera app, which allows iPhone users to shoot with multiple cameras at the same time. An early version of the app was demoed during Apple's ‌iPhone‌ 11 Pro media event back in September.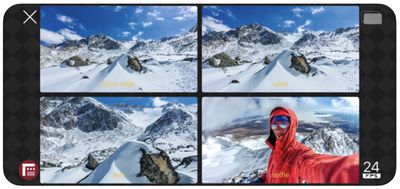 By letting users shoot with multiple cameras simultaneously, DoubleTake enables twice as much coverage on the same take. Apple used the app on stage to highlight the advanced features of the ‌‌iPhone‌ 11 Pro‌ and 11 Pro Max triple-lens camera system.
The app's main interface consists of a compound overlay showing primary and secondary cameras, combining front-facing and rear-facing ‌‌iPhone‌ cameras. Users can cut between them, or capture the video feeds displayed alongside each other, in either split-screen or picture-in-picture mode.
You can choose which lenses you want to capture footage from – the ultra wide, wide, telephoto, or front-facing camera – and opt to shoot in 24, 25, or 30 frames per second. After that, it's just a matter of selecting the layout of the feeds in the composite display and then pressing the record button.
DoubleTake is compatible with ‌iPhone‌ XR/XS/XS Max and ‌iPhone‌ 11/11 Pro/11 Pro Max models running iOS 13, and is available as a free download from the App Store. [Direct Link]