3D Touch Again Rumored to Be Removed From All 2019 iPhones
A few months ago, in a research note shared with MacRumors, a team of Barclays analysts "confirmed" that 3D Touch "will be eliminated" in all 2019 iPhones, as they predicted back in August 2018. The analysts gathered this information from Apple suppliers following a recent trip to Asia.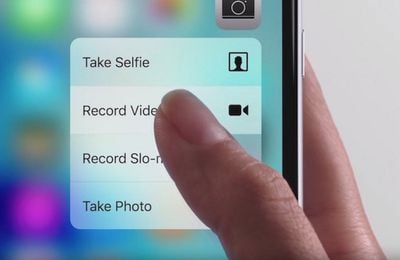 The Wall Street Journal floated the same rumor back in January, and now, yet another source suggests 3D Touch is on the chopping block. Namely, Taiwanese supply chain publication DigiTimes today claimed that Apple "may" remove ‌3D Touch‌ hardware from all 2019 iPhones, citing unnamed industry sources.
Apple already introduced software changes in iOS 13 and iPadOS that hint at ‌3D Touch‌ not being supported on new devices.
Specifically, "Quick Actions" menus that float above app icons on the home screen and "Peek" previews of emails, links, messages, and more are now supported on any iPhone or iPad that can run iOS 13 or iPadOS. These features were previously exclusive to iPhones with pressure-sensitive ‌3D Touch‌ hardware.
Both features rely on a long press, aka pressing and holding, meaning this is effectively an expansion of the Haptic Touch functionality that debuted on the ‌iPhone‌ XR last year, although Apple's developer documentation refers to it as the "system-defined touch and hold gesture" on other devices.
The ability to invoke Quick Actions menus and Peek previews with a long press in iOS 13 likely foreshadows the removal of ‌3D Touch‌ from 2019 iPhones, as most of ‌3D Touch‌'s features will be possible without needing pressure-sensitive ‌3D Touch‌ hardware in 2019 iPhones, reducing production costs for Apple.
‌3D Touch‌ is still functional in iOS 13 on existing iPhones that support the feature, and will likely continue to be in future software updates. This includes the ‌iPhone‌ 6s through ‌iPhone‌ XS Max, excluding the iPhone SE.