Just one week after Apple surprised us all with its first iPhone game since 2008, starring billionaire investor Warren Buffett, the game has been pulled from the App Store outside of the United States with no confirmed reason.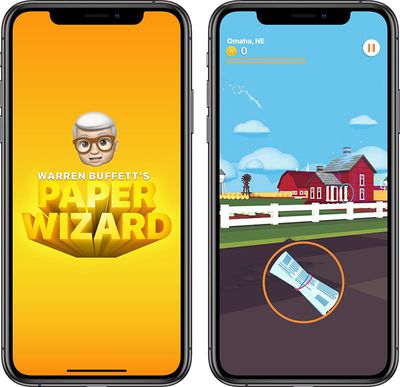 Warren Buffett's Paper Wizard is a simple game that tasks players with flinging newspapers to collect Warren Bucks. The game gradually increases in difficulty as players make their way from Buffett's native Omaha, Nebraska to Apple's hometown of Cupertino, California, including a visit to Apple Park.
Buffett was a childhood newspaper carrier who for years held newspaper-tossing contests during Berkshire Hathaway's annual shareholders meeting.


Apple CEO Tim Cook unveiled the game during a surprise appearance at the annual meeting earlier this month. While the game's developer is listed as Wildlife Designs on the ‌App Store‌, the app is copyrighted, maintained, and operated by Apple, making this its first iPhone game since Texas Hold'em back in 2008.
Cook makes a brief appearance in the game himself, welcoming players to Cupertino, referred to as the home of Apple.
Did Apple pull their new game, Warren Buffett's Paper Wizard from the App Store already? It tells me it's not available (but I was able to download it a few days ago) cc @MacRumors @rsgnl https://t.co/9fNi9ZLktb — Julian Schiavo (@justJS_dev) May 13, 2019
Given that
Warren Buffett's Paper Wizard
only takes minutes to complete, and that Buffett's high score of 15,350 is seemingly unbreakable, the game appears to be little more than a short-lived novelty. As such, it is not all that surprising that the game has already been pulled internationally.