AT&T's '5GE' Service No Faster Than LTE From Verizon and T-Mobile
Starting with the iOS 12.2 beta, AT&T began displaying a 5G Evolution or 5GE icon on iPhones, misleading AT&T subscribers into thinking they're getting 5G transfer speeds when in fact, 5G on iPhone is not supported and AT&T has no 5G network as of yet.
AT&T uses the 5GE labeling to describe its 4G LTE networks that offer features like three-way carrier aggregation, 256 QAM, and 4x4 MIMO. These options are in no way limited to AT&T and are offered by other carriers, but no other carrier has chosen to use fake 5G branding.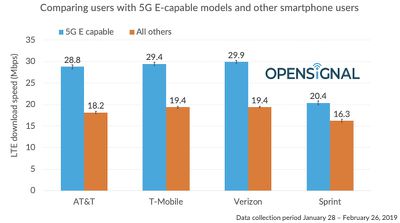 As should come as no surprise, a recent test from OpenSignal has proven that AT&T's ‌5GE‌ network is no faster than 4G networks from Verizon and AT&T that have the same speed upgrades.
AT&T users that have a ‌5GE‌ capable smartphone, which includes modern iPhones and some Android devices, receive a "better experience" than other AT&T users with less capable smartphone models, but those same iPhones and Android devices get similar speeds on other carriers. Verizon, AT&T, and T-Mobile are all offering the same LTE advancements on iPhones with the newest LTE technology, but only AT&T is confusing customers with 5G branding.
What Opensignal's data shows is the extent to which LTE, or 4G, networks have improved since LTE's original launch. Technologies like carrier aggregation -- where two or more bands are used to simultaneously connect a user's smartphone -- 256 QAM or 4x4 MIMO, which together are normally called LTE Advanced Pro, offer a much faster experience than the initial version of 4G that was launched back in 2009-2011.
AT&T's fake branding has struck a nerve with other carriers, especially Sprint. Sprint has launched a full anti-AT&T campaign, filing a lawsuit against AT&T for its misleading branding and taking out ads in The New York Times.
Sprint rightly claims that AT&T is confusing customers and damaging the understanding of true 5G, which has the potential to impact Sprint's own 5G launch.
5G smartphones are only now just beginning to trickle out, and Apple isn't expected to launch one until 2020. No existing ‌iPhone‌ will be able to connect to a 5G network because it requires new hardware. 5G networks from the four major carriers in the United States will become available starting in 2019, but the technology is still new and there will be many bugs and coverage issues to work out.