AT&T Sued by Sprint for Misleading '5GE' Branding [Updated With AT&T Statement]
Sprint has filed a lawsuit in federal court against AT&T for its false "5G Evolution" claims that appeared on some iPhones in iOS 12.2 beta 2 earlier this week, and on Android phones in January (via Engadget). AT&T says that this "5GE" label indicates to customers when they are in an area where 5G Evolution "may be available," but it's really just an upgraded version of 4G LTE, because any form of 5G on an iPhone is impossible at this point.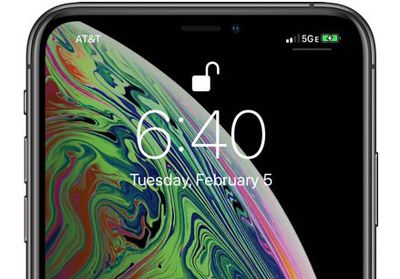 Apple will have to release new hardware to support 5G services, a launch that isn't expected until 2020. Because of this, Sprint has filed an injunction to prevent AT&T from using ‌5GE‌ tags on its devices or in advertising, claiming that AT&T is damaging the consumer reputation and understanding of true 5G, and potentially hurting Sprint's upcoming launch of 5G in the process.
In the claim, Sprint explains that it commissioned a survey and found that 54 percent of consumers believed that the "‌5GE‌" networks were the same as, or even better, than true 5G. Forty-three percent thought that if they purchased an AT&T smartphone today it will be 5G capable, both of which are not true.
Now, Sprint wants to stop AT&T from damaging the 5G brand while it builds a "legitimate early entry into the 5G network space." Like every other network carrier, Sprint has been working on a wide-scale 5G network that has previously been said to launch in late 2019. True 5G networks will grant users faster data speeds and lower latency on compatible smartphones and other cellular devices.
For Apple, the company won't release an ‌iPhone‌ that can connect to 5G data networks until at least 2020. While other companies will begin supporting 5G in smartphones in 2019, Apple is delaying support due to expected issues with early 5G launches, like poor coverage. Apple took the same strategy during the launch of 3G and 4G, the two previous generations of high-speed mobile services.
Update: AT&T has provided the following statement to MacRumors:
"We understand why our competitors don't like what we are doing, but our customers love it. We introduced 5G Evolution more than two years ago, clearly defining it as an evolutionary step to standards-based 5G. 5G Evolution and the 5GE indicator simply let customers know when their device is in an area where speeds up to twice as fast as standard LTE are available. That's what 5G Evolution is, and we are delighted to deliver it to our customers.

We will fight this lawsuit while continuing to deploy 5G Evolution in addition to standards-based mobile 5G. Customers want and deserve to know when they are getting better speeds. Sprint will have to reconcile its arguments to the FCC that it cannot deploy a widespread 5G network without T-Mobile while simultaneously claiming in this suit to be launching 'legitimate 5G technology imminently.'"