Sprint Takes Out Full Page NYT Ad Calling Out AT&T for Misleading 5GE Branding
Sprint on Sunday took out a full-page ad in The New York Times to call out AT&T for its "5GE" network labeling, which actually offers 4G speeds rather than 5G speeds.
In the letter [PDF], Sprint calls AT&T's 5G Evolution "fake 5G" and clarifies that AT&T is not, in fact, offering faster speeds than other carriers who deliver the same 4G LTE advancements that AT&T has enabled such as three-way carrier aggregation, 256 QAM, and 4x4 MIMO.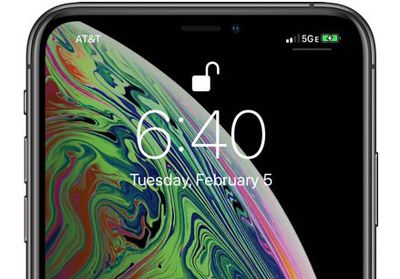 While Sprint is working hard to deliver mobile 5G and the first 5G smartphone in the U.S., AT&T is hard at work trying to convince you that they already won the race to 5G with something they call "5G Evolution." That is simply untrue.

Don't be fooled. 5G Evolution isn't new or true 5G. It is fake 5G.

They would love for you to believe they are different ... better. The truth is AT&T is simply offering customers a nationwide 4G LTE network just like Sprint and all the other major wireless carriers. It's not 5G.
AT&T first started upgrading customer iPhones to read "‌5GE‌" in the iOS 12.2 beta, and the misleading branding will become much more widespread when iOS 12.2 sees a public release.
Devices in areas with AT&T's "upgraded" LTE will display "‌5GE‌" instead of LTE, but it's not real 5G. There is no iPhone that exists right now that is capable of connecting to a 5G network, nor does AT&T offer a true 5G network at this time.
AT&T has defended itself by claiming that 5G Evolution is the "first step on the road to 5G," but customers and other carriers are not impressed with its misleading branding that has the potential to confuse customers when actual 5G networks become available. AT&T has, however, claimed that customers "love" the ‌5GE‌ branding because they "want and deserve to know" when "better speeds" are available.

"We understand why our competitors don't like what we are doing, but our customers love it. We introduced 5G Evolution more than two years ago, clearly defining it as an evolutionary step to standards-based 5G. 5G Evolution and the 5GE indicator simply let customers know when their device is in an area where speeds up to twice as fast as standard LTE are available. That's what 5G Evolution is, and we are delighted to deliver it to our customers.
Sprint has done more than just take out an ad against AT&T. In early February, Sprint filed a lawsuit in federal court against AT&T in an attempt to prevent AT&T from using the ‌5GE‌ labeling on AT&T smartphones. Sprint says AT&T is damaging the consumer reputation and understanding of true 5G and potentially hurting Sprint's 5G launch this summer in nine metro areas.
True 5G smartphones won't be coming until later in 2019, and the 5G networks to support them also won't be available until later in the year. Rumors suggest Apple isn't planning to introduce 5G connectivity on its iPhones until 2020 at the earliest, so 5G is not a technology ‌iPhone‌ users will be able to take advantage of in 2019.