Apple Claims Its Former Engineer Helped Invent Tech in Qualcomm Patent
Apple and Qualcomm have been squaring off in courts around the world, and this week, the first U.S. jury trial kicked off in San Diego, California, where Qualcomm's headquarters are located.
During today's legal proceedings, which were covered by CNET, Apple claimed that one of its former engineers, Arjuna Siva, had a hand in inventing the technologies covered in one of the patents that Qualcomm is accusing Apple of infringing on.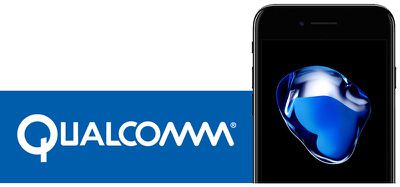 The patent in question covers a method that allows a smartphone to quickly connect to the internet once the device boots up. According to Apple, Siva came up with the concept for the patent and should be named on it.
Siva was an Apple employee prior to 2011, which was the year Apple released the first iPhone that used a Qualcomm chip. Prior to the release of that device, Apple and Qualcomm worked together for modem chips that would meet Apple's needs. Siva was involved in those discussions and proposed the technology that Qualcomm went on to patent.
Apple claims that while the two companies were in discussions, then-Apple engineer Arjuna Siva came up with the idea that Qualcomm would later patent. Siva, who now works at Google, will testify later in the trial.

"Does Qualcomm believe in giving credit where credit is due?" Apple's counsel, Joseph Mueller of Wilmer Hale, asked Monday.
Qualcomm director of engineering Stephen Haenichen said that Siva did not deserve to have his name on the patent and contributed "nothing at all" to the development of the feature, despite Apple's argument.
According to CNET, Apple's aim with the Siva argument is to prove that Qualcomm is hasty and careless when filing its patents. Qualcomm pays $1,500 to employees for filing a patent and another $1,500 when the patent is issued, which is another point Apple brought up to demonstrate Qualcomm's treatment of patents. Siva will testify later in the week to provide more detail on his role working with Qualcomm back before the first ‌iPhone‌ with a Qualcomm modem was released.
The current trial between Apple and Qualcomm will last through next week and we'll likely see additional interesting tidbits and arguments revealed as the legal battle goes on and the jury tries to decide if Apple is indeed guilty of infringing on Qualcomm technology.
Apple and Qualcomm have been fighting since January 2017, when Apple sued Qualcomm for $1 billion in unpaid royalty fees. Qualcomm countersued, and since then, the two companies have levied multiple lawsuits against one another. Two of Qualcomm's lawsuits have resulted in import bans in Germany and China, both of which Apple was able to skirt with hardware and software updates.