Apple to Invite Hollywood Stars to TV Service Launch on March 25 [Updated]
Apple is planning to unveil both its news service and its TV streaming service at its March 25 event, reports Bloomberg, and celebrities will be in attendance.
Apple's plans for a March 25 event were revealed yesterday, but at the time, Apple was only known to be unveiling an upcoming news subscription service in Apple News. The rumored TV service that's in the works will also reportedly be included.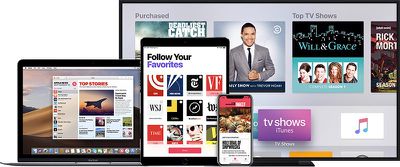 Hollywood stars such as Jennifer Aniston, Reese Witherspoon, Jennifer Garner, and JJ Abrams are set to attend the event, which will be held at the Steve Jobs Theater on the Apple Park campus in Cupertino, California. All of these actresses are starring in television shows that Apple has purchased, and JJ Abrams is directing one of them.
Apple's upcoming video service is said to be similar to Amazon's Prime video option and Netflix's service. It will include TV shows and movies acquired by or funded by Apple, and Apple has more than two dozen original television shows in the works. An actual paid subscription service will launch by the summer.
There is some confusion over Apple's streaming TV plans. While Bloomberg's report suggests Apple's content will be delivered via paid streaming service, other rumors have indicated that Apple plans to provide at least some of its original content to Apple device owners for free.
These other rumors have also suggested that Apple will be teaming up with content providers like Showtime to allow Apple owners to sign up for add-on services like Showtime premium through its TV app, where the upcoming streaming service will presumably be available.
Apple's plans for its TV service will become clearer after March, when the details are officially announced.
Along with its TV service, Apple is going to unveil a premium news service that will let ‌Apple News‌ users sign up for a $9.99 per month subscription that will provide unlimited access to paywalled content from sites like The New York Times and the Washington Post, though Apple is said to be still negotiating deals ahead of the service's launch.
There's also a magazine subscription service in the works, which will provide unlimited access to dozens of magazines for $9.99 per month, similar to the Texture service that Apple acquired in 2018. All of these services could potentially be bundled into a single subscription package option in the future.
The March 25 event is believed to focus solely on services, with Apple not planning to introduce any hardware.
Several hardware products, such as the iPad mini 5, seventh-generation iPad, AirPower, updated AirPods, and seventh-generation iPod touch are in the works and are expected to be updated in the spring, but those updates are not expected at the March event and could instead come via press release.
With the AirPower having already been announced and all of the other updates being relatively minor in scale based on circulating rumors, it makes sense for the new products to debut more quietly.
The iPad mini 5, for example, is expected to be quite similar in design to the ‌iPad mini‌ 4, with the exception of an updated processor, and the same goes for the seventh-generation iPad. That device may get a slightly bigger 10-inch screen and a new chip, but the changes won't be significant.
AirPods rumors have been a bit mixed, but it looks like we may get a wireless Charging Case and "Hey Siri" functionality with other features saved for a later update in 2019 or 2020. We're also not expecting significant design changes to the seventh-generation iPod touch, which will look similar to the sixth-generation model.
Update: A separate report from Reuters suggests that Apple may be planning to hold an event to introduce its streaming television service in April, not March.
Update 2: The Hollywood Reporter also confirms that Jennifer Aniston, Reese Witherspoon, Jennifer Garner, and J.J. Abrams have all been invited to an Apple event set to be held on March 25.