Hints of Magazine Subscription Service Spotted in Apple News in iOS 12.2 Beta
Apple is rumored to be working on a subscription-based service that will be offered in the Apple News app, and hints of that service were discovered in the iOS 12.2 beta.
Apple in 2018 acquired subscription-based digital magazine app Texture, leading to rumors suggesting Apple would develop a subscription-based news and magazine service.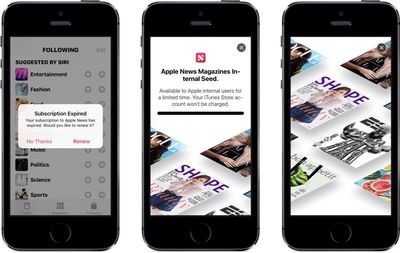 Apple appears to be testing such a service internally based on images found in iOS 12.2 by 9to5Mac. A hidden landing page indicates Apple is going to call the service "‌Apple News‌ Magazines," with customers able to subscribe in the ‌Apple News‌ app.
Billing appears to be handled through iTunes, much like Apple Music, and there are also reportedly hints of a "bundle subscription," suggesting rumors that Apple will develop an all-in-one subscription option for TV, ‌Apple Music‌, and magazines could be accurate.
The interface for ‌Apple News‌ Magazines is similar in design to Texture. Texture, which is still available via the App Store, provides access to over 200 popular magazines like People, The New Yorker, Time, National Geographic, Shape, Newsweek, and more, all for a $9.99 per month fee.
‌Apple News‌ Magazines could work similarly, though rumors have suggested it will also include news subscription options, and pricing is unclear. In September, Apple was rumored to be aiming to get major newspapers like the Washington Post and the New York Times to join its subscription service.
Late 2018 rumors indicated that Apple would launch its subscription news and magazine service in spring 2019, which could line up with the launch date of iOS 12.2. Apple has also held a March event for the last several years, and if such a service is in the works for spring 2019, a March event would be an ideal time to unveil it.
Early 2019 is also the prospective launch date for Apple's rumored TV streaming service, so it's quite possible both this news service and the TV service will be announced at the same time.