iPod touch
Updated with new colors, 128 GB storage option, and more on July 15, 2015.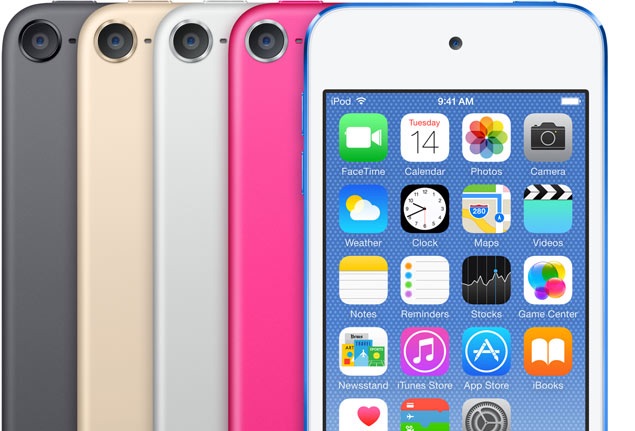 At a Glance
The iPod touch is Apple's only iPod running iOS, offering access to the App Store and the same 4-inch Retina display found on the company's iPhone 5 and 5s. The iPod touch was updated on July 15, 2015 with new colors, an A8 chip with M8 motion coprocessor for fitness tracking, a new 128 GB storage tier, and an improved 8-megapixel rear camera.
Current Specs
$199 for 16 GB, $249 for 32 GB, $299 for 64 GB, $399 for 128 GB
4-inch Retina display
A8 chip with M8 motion coprocessor
8-megapixel rear camera with slo-mo and burst modes
Front-facing FaceTime HD camera
Bluetooth 4.1
Six color options
Current Version
Apple updated its iPod touch lineup on July 15, 2015, introducing new colors and significant internal upgrades to the same A8 chip used in the iPhone 6 and 6 Plus, as well as an improved 8-megapixel rear camera. The iPod touch is available in 16, 32, 64, and 128 GB sizes and is priced at $199/$249/$299/$399, with all three models available in six different colors.

The imminent update to the iPod lineup was revealed several weeks early by images discovered within iTunes 12.2 depicting the iPod touch in several shades that did not exist at the time.
In More Detail
The current sixth-generation iPod touch maintains the same form factor introduced in September 2012 with the fifth generation of the family but includes significantly improved internals led by a jump from the A5 chip used in the previous chip to the A8 chip also used in the iPhone 6 and 6 Plus.
Other improvements include a new 8-megapixel rear camera (up from 5 megapixels) that includes new slo-mo and burst mode features, an M8 motion coprocessor for fitness tracking, faster 802.11ac Wi-Fi support, and Bluetooth 4.1. The new iPod touch also comes with iOS 8.4 and the new Apple Music service right out of the box.

The sixth-generation iPod touch includes a new storage tier at the 128 GB level, making it a more viable replacement for the iPod classic, which was discontinued in September 2014 after many years without an update. The new 128 GB iPod touch model is priced at $399. Apple also offers discounted sixth-generation iPod touch models through its online refurbished store.
Another change with the sixth-generation family is the removal of the "loop" wrist strap. The fifth-generation models included a spring-loaded button on the rear of the device concealing an attachment for a wrist strap to help secure the device against drops.
The sixth-generation iPod touch includes a 1,043 mAh battery that keeps the battery life at the same level of the fifth-generation iPod, despite a much more robust processor. It also includes 1GB of RAM, and its A8 processor clocks in at more than six times faster than the A5 in the previous-generation device.
While Apple's iPod lineup has seen declining sales in recent years as customers have increasingly shifted to smartphones for their media player and app needs, the iPod touch remains the flagship model in routinely accounting for over 50% of all iPod sales. The device is the only iPod model to offer compatibility with the App Store and has well over 100 million units since its 2007 debut.
What's Next
With a fresh update just released and sales of the iPod lineup continuing to wane as users continue to shift toward smartphones for their mobile device consumption, we're not expecting any further updates for quite some time. At this point in the iPod's lifecycle, Apple is only making major updates every few years, although there could be an occasional price drop or color change to try to provide a spark for sales volumes.