iPod touch
Just updated with A10 chip and up to 256 GB storage.
By MacRumors Staff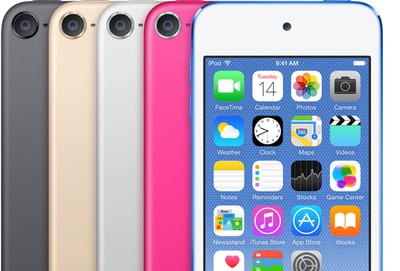 The 2019 iPod touch
Apple in May 2019 refreshed the handheld non-cellular iPod touch for the first time in several years, introducing an improved processor that makes the device faster than before.
The 2019 seventh-generation iPod touch has no new design features and continues to look the same as the sixth-generation model, with an aluminum shell, 4-inch display, and body that features a Home button but no Touch ID fingerprint sensor. Unlike most Apple products, there is no biometric unlocking mechanism in the iPod touch so a passcode is required.
With the updated A10 Fusion chip, which was first used in the 2016 iPhone 7, the 2019 iPod touch offers improved gameplay, support for Group FaceTime, and augmented reality capabilities.
Apple is offering the updated iPod touch in Pink, (PRODUCT)RED, Space Gray, Silver, Gold, and Blue, the same colors available for the sixth-generation iPod touch.

Priced starting at $199, the new iPod touch offers 32, 128, or 256GB of storage, with the latter option new in 2019. 128GB of storage costs $299, and 256GB of storage costs $399.
Design
Despite rumors suggesting the iPod touch could see a design refresh, the updated 2019 model has no external changes. It continues to use the same form factor introduced in September 2012, with an aluminum shell in one of six colors.
The iPod touch is Apple's smallest handheld device, measuring in at 123.4mm by 58.6mm by 6.1mm, with a 4-inch display. It's the only phone-sized device that Apple now offers with a 4-inch display, as the smallest iPhone available from Apple features a 4.7-inch display.

There's a Home button on the iPod touch but it supports no biometric authentication, which means you need to use a passcode to unlock it. It continues to have thick top and bottom bezels, which means that even though it has a 4-inch display, it's not too much smaller than the iPhone XS.

Camera technology has not been upgraded, and it features a 8-megapixel rear camera with an f/2.4 aperture, along with support for 1080p HD video recording at 30 frames per second.
Subscribe to the MacRumors YouTube channel for more videos.
At the front, there's a 1.2-megapixel FaceTime HD camera with an f/2.2 aperture, which is also older technology and not comparable to the cameras in modern iPhones.
Display
The iPod touch features a 4-inch diagonal widescreen multi-touch display with a resolution of 1136 x 640. It features an 800:1 contrast ratio and 500 nits brightness, but is otherwise lacking many of the technological advancements available in modern devices.
There is no wide color support nor support for True Tone, and using older display technology likely helps Apple keep the cost of the device low.
Processor
The sole new feature in the 2019 iPod touch is the A10 Fusion processor, which was first introduced in the iPhone 7 and the iPhone 7 Plus, making the new iPod touch the equivalent to a phone from 2016.

The A10 Fusion is still a powerful chip that's super fast and a major improvement over the A8 chip in the previous-generation iPod touch. Apple also uses the A10 Fusion in the 2018 6th-generation iPad.
Other Features
The new iPod touch, like the prior model, supports Bluetooth 4.1 instead of Bluetooth 4.2 or Bluetooth 5.0, and it includes support for 802.11ac Wi-Fi.
Apple doesn't offer specific battery information for the iPod touch, but it offers up to 40 hours of music playback and eight hours of video playback. Like other Apple devices, it charges using a Lightning cable.
How to Buy
The 2019 iPod touch can be purchased from the online Apple Store and Apple retail locations. It costs $199 for the 32GB model, $299 for the 128GB model, and $399 for the 256GB model.
What's Next for the iPod touch?
A placeholder listing for an "Apple iPod Touch X Generation" showed up in Target's inventory system in February, which perhaps suggests that a new iPod touch is in the works. There are no rumors of a new iPod touch, though, so it's not quite clear if this listing is for an actual iPod touch or instead is a placeholder for something like the rumored low-cost iPhone, and no new iPod touch has materialized thus far.