iPod touch
Rumors of a new iPod Touch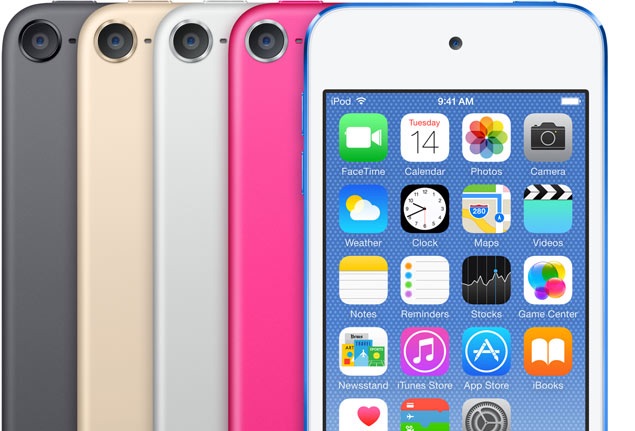 At a Glance
The iPod touch is Apple's only iPod running iOS, offering access to the App Store and the same 4-inch Retina display found on the company's iPhone 5 and 5s. The last hardware update for the iPod touch came in July 2015, and in July 2017 Apple cut prices and reduced the number of storage capacity options.
Current Specs
$199 for 32 GB, $299 for 128 GB
4-inch Retina display
A8 chip with M8 motion coprocessor
8-megapixel rear camera with slo-mo and burst modes
Front-facing FaceTime HD camera
Bluetooth 4.1
Six color options
What's Next for the iPod Touch
With the discontinuation of the iPod shuffle and iPod nano in July 2017, Apple's iPod family has seemed to be on its last legs as users shift to smartphones and iPads for mobile device consumption.
Japanese site Mac Otakara believes that a 7th-generation iPod touch could be in the works, however, which would mark the first update to the iPod touch since 2015. Apple also recently extended the iPod touch trademark to include gaming devices, also perhaps hinting at the upcoming launch of a new model.
References to an unreleased "iPod 9,1" were discovered in iOS 12.2, confirming that Apple is likely working on a new model. The device does not appear to have details related to Face ID or Touch ID associated with it, which would be in line with the current iPod touch. All the information we have so far points towards an iPod touch that looks identical to the 6th-generation iPod touch, with Apple likely planning to add a new processor and perhaps a new camera.

A reference to iPod 9,1 found in iOS 12.2
We don't have details on when an updated iPod touch might be coming or what new features it might include beyond a faster processor, but we'll be keeping an eye out for additional info.
Current Version
On July 27, 2017, Apple simplified its iPod touch lineup, reducing the previous four capacity options to just two at lower prices:32 GB for $199 and 128GB for $299.

Apple previously updated its iPod touch lineup on July 15, 2015, introducing new colors and significant internal upgrades to the same A8 chip used in the iPhone 6 and 6 Plus, as well as an improved 8-megapixel rear camera. The iPod touch was available in 16, 32, 64, and 128 GB sizes priced at $199/$249/$299/$399, with all three models available in six different colors.
In More Detail
The current sixth-generation iPod touch maintains the same form factor introduced in September 2012 with the fifth generation of the family but includes significantly improved internals led by a jump from the A5 chip used in the previous generation to the A8 chip also used in the iPhone 6 and 6 Plus.
Other improvements included a new 8-megapixel rear camera (up from 5 megapixels) that includes new slo-mo and burst mode features, an M8 motion coprocessor for fitness tracking, faster 802.11ac Wi-Fi support, and Bluetooth 4.1. The iPod touch also comes with iOS 10 and support for Apple Music right out of the box.

The sixth-generation iPod touch includes a new storage tier at the 128 GB level, making it a more viable replacement for the iPod classic, which was discontinued in September 2014 after many years without an update. Initially priced at $399, the 128 GB iPod touch model dropped to $299 in July 2017. Apple also offers discounted sixth-generation iPod touch models through its online refurbished store.
Another change with the sixth-generation family is the removal of the "loop" wrist strap. The fifth-generation models included a spring-loaded button on the rear of the device concealing an attachment for a wrist strap to help secure the device against drops.
The sixth-generation iPod touch includes a 1,043 mAh battery that keeps the battery life at the same level of the fifth-generation iPod, despite a much more robust processor. It also includes 1GB of RAM, and its A8 processor clocks in at more than six times faster than the A5 in the previous-generation device.
While Apple's iPod lineup has seen declining sales in recent years as customers have increasingly shifted to smartphones for their media player and app needs, the iPod touch remains the flagship model in routinely accounting for over 50% of all iPod sales. The device is the only iPod model to offer compatibility with the App Store and has well over 100 million units since its 2007 debut.