Strategy Analytics: Apple Shipped an Estimated 2.5 Million Fewer iPhones in China in 2018 Than in 2017
Apple shipped an estimated 34.2 million iPhones in China in 2018, down from 36.7 million in 2017, according to new data shared today by Strategy Analytics.
During the fourth calendar quarter of 2018 (Apple's first fiscal quarter), Apple shipped 10.9 million iPhones, down from 14 million in the fourth quarter of 2017.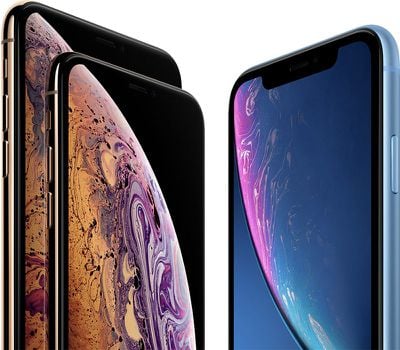 Apple surpassed Xiaomi to become the number four smartphone vendor in the country, but its iPhone sales fell short of Huawei, OPPO, and Vivo, all Chinese companies that make more affordable smartphones.


For 2018 in total, Apple came in fifth in China, trailing behind the four major Chinese smartphone vendors. Huawei was the number one vendor in China, shipping an estimated 105.1 million smartphones during the year. OPPO shipped 82.8 million, Vivo shipped 79.3 million, and Xiaomi shipped 50 million.
Apple lost market share in the fourth quarter of 2018, but gained ground overall in 2018. Apple held 10.1 percent of the smartphone market in the fourth quarter of 2018, down from 11.5 percent in the fourth quarter of 2017. Apple's total 2018 marketshare was 8.4 percent, up from 8 percent.


Despite the slight year-over-year jump, Apple trails all major Chinese smartphone vendors in the country when it comes to market share, including Huawei, OPPO, Vivo, and Xiaomi.
Fourth quarter smartphone shipments in China declined by 11 percent annually, with a total of 107.9 million units shipped by all vendors. That's down from 121.3 million in the fourth quarter of 2017. Smartphone shipments also fell 11 percent annually, with 408.5 million smartphones shipped in China in 2018 down from 459.6 million in 2017.
Overall smartphone shipments have declined for five consecutive quarters in China, which has heavily impacted Apple. Apple recently downgraded its guidance for the first fiscal quarter of 2019 (which is the fourth calendar quarter), blaming the move on poor ‌iPhone‌ sales, primarily in China.
Strategy Analytics Director Linda Sui said that the holiday quarter was Apple's worst performance since early 2017. Apple's ‌iPhone‌ shipments have dropped on a year-over-year basis in China for 8 of the last 12 quarters.
Apple has been under pressure in China for the past three years. Ongoing patent battles with Qualcomm are a distraction, while Apple is being heavily criticized for its expensive retail prices. Apple is in danger of pricing the iPhone out of China."
To boost sales in China, Apple has cut the prices of its iPhones for third-party distributors in China, allowing distributors to provide iPhones at lower prices for Chinese customers. The biggest discounts have been on the iPhone XR.
Apple's lowered pricing comes just ahead of the Chinese New Year in February, with Apple hoping the discounts will lure shoppers into purchasing a new ‌iPhone‌ during the holiday.