AAPL Stock Recoups Losses Incurred After Tim Cook Slashed Apple's Revenue Guidance
AAPL shares are currently trading above the $157 mark on the intraday market, recouping virtually all losses incurred since Apple CEO Tim Cook slashed Apple's revenue guidance by up to $9 billion for the first quarter of its 2019 fiscal year.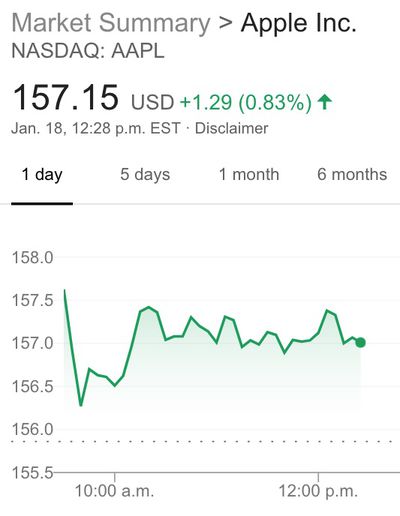 AAPL closed at $157.92 on January 2, immediately prior to Cook revealing the shortfall in an after-hours letter to shareholders, and is now trading just cents below that level. The stock has gradually recovered over the past two weeks since establishing a new 52-week low of $142 on January 3.
Apple share price now returned to level before Tim Cook's letter to investors. — Horace Dediu (@asymco) January 18, 2019
Apple originally guided for revenue of between $89 billion and $93 billion in the three-month period ending in December, but revised its estimate to $84 billion due to "fewer
iPhone
upgrades" than it anticipated, primarily due to "significantly greater" economic weakness than it projected in the Greater China region.
The letter sparked concerns among some investors and analysts that Apple has reached "peak ‌iPhone‌," especially given Apple's revelation that it will no longer disclose unit sales in its quarterly earnings reports going forward.
While the ‌iPhone‌ accounts for around two-thirds of Apple's revenue, the company has repeatedly touted the continued growth of its services, including the App Store, Apple Music, iCloud, iTunes, and so forth, which combined for a nearly 19 percent increase in revenue on a year-over-year basis in the quarter.
Apple is widely expected to launch a streaming TV service this year that will likely boost the revenue of that category even further.
In his letter to shareholders, Cook said Apple is undertaking and accelerating multiple initiatives to improve its results, including making it simple to trade in a phone at its stores. Back in November, Apple launched a promotion offering up to $100 in extra trade-in credit towards a new ‌iPhone‌ XR or ‌iPhone‌ XS.
AAPL will report its earnings for the first quarter of fiscal 2019 on January 29, followed by a conference call to discuss the results at 2 p.m. Pacific Time.