Apple's Newest Mac Pro Turns Five Years Old Today
Today marks the fifth anniversary of Apple's last update to the Mac Pro, as reflected in the MacRumors Buyer's Guide.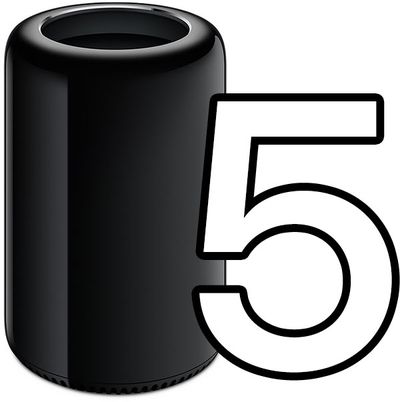 Mac Pro from 2013 to present
Apple released the second-generation Mac Pro
on December 19, 2013
, starting at $2,999, and it
remains that price today
after some
reshuffling of configurations
despite having over five year old hardware, including up to a 12-core Intel Xeon E5 processor, 64GB of ECC RAM, 1TB of SSD storage, and dual AMD FirePro D700 GPUs.
Last year, during a roundtable discussion about the Mac Pro with John Gruber and a few other reporters, Apple's software engineering chief Craig Federighi admitted that the current Mac Pro's so-called "trash can" design has a limited thermal capacity that doesn't always meet the needs of the most demanding workflows:
I think we designed ourselves into a bit of a thermal corner, if you will. We designed a system with the kind of GPUs that at the time we thought we needed, and that we thought we could well serve with a two GPU architecture. That that was the thermal limit we needed, or the thermal capacity we needed. But workloads didn't materialize to fit that as broadly as we hoped.

Being able to put larger single GPUs required a different system architecture and more thermal capacity than that system was designed to accommodate. So it became fairly difficult to adjust. At the same time, so many of our customers were moving to iMac that we saw a path to address many, many more of those that were finding themselves limited by a Mac Pro through next generation iMac. And really put a lot of our energy behind that.
Fortunately, the long wait of 1,826 days and counting for an all-new Mac Pro should finally be over by the end of next year.
Last year, at the same Mac Pro roundtable discussion, Apple's marketing chief Phil Schiller revealed that the company is "completely rethinking the Mac Pro," with work underway on a new version that will be Apple's "highest-end, high-throughput desktop system" designed for its "demanding pro customers."
Schiller said the new Mac Pro will be a "modular" system and accompanied by a new Thunderbolt Display successor:
As part of doing a new Mac Pro — it is, by definition, a modular system — we will be doing a pro display as well. Now you won't see any of those products this year; we're in the process of that. We think it's really important to create something great for our pro customers who want a Mac Pro modular system, and that'll take longer than this year to do.
Apple briefly reiterated its plans in a press release about the iMac Pro in December 2017:
In addition to the new iMac Pro, Apple is working on a completely redesigned, next-generation Mac Pro architected for pro customers who need the highest performance, high-throughput system in a modular, upgradeable design, as well as a new high-end pro display.
It isn't often that Apple pre-announces new products in its pipeline, but there were growing concerns the company was no longer focused on professional users, to the point of Schiller apologizing to and reassuring customers:
If we've had a pause in upgrades and updates, we're sorry for that — what happened with the Mac Pro — and we're going to come out with something great to replace it.
We're committed to the Mac, we've got great talent on the Mac, both hardware and software, we've got great products planned for the future, and as far as our horizon line can see, the Mac is a core component of the things Apple delivers, including to our pro customers.
In April, Apple confirmed that the new Mac Pro will be released in 2019, but it didn't say exactly when in the year.

Mac Pro from 2006 to 2012
There is some debate as to how "modular" the new Mac Pro will truly be, but many are hopeful that Apple will return to a truly upgradeable tower design like 2006 to 2012 models of the Mac Pro, which can be opened with a lever on the back. Others will be quick to dismiss that idea as wishful thinking.
Apple has yet to preview the design, features, tech specs, or pricing of the new Mac Pro, details that will very likely be held until WWDC 2019 in June or another Apple event at some point next year, so we'll have to keep waiting for now.