Apple Apologizes About Mac Pro's Lack of Upgradability, Ensures It's Still Committed to Pros
Apple invited a small group of reporters to Cupertino on Monday for a roundtable discussion about the future of the Mac.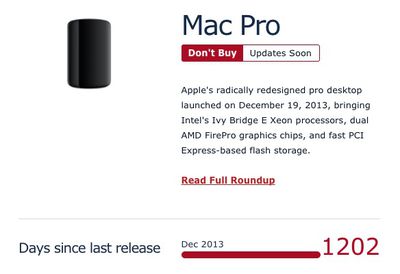 Apple revealed to them reshuffled Mac Pro configurations and pricing, but the bigger news was that it's working on a "completely rethought" Mac Pro that will feature a modular design. The all-new Mac Pro, which won't launch until at least next year, will be Apple's highest-end, highest-throughput system.
Apple said the new Mac Pro will be accompanied by an Apple-branded external display geared towards pro users. Apple appears to be reversing course after discontinuing the Thunderbolt Display, and reportedly exiting the display business. It most recently partnered with LG on the UltraFine 4K and 5K displays.
Apple also said that it's working on new iMac models that will be unveiled later this year, but it remained tight-lipped about what to expect. Meanwhile, Apple said the Mac mini remains an "important" product in its lineup, and one that it will continue to sell, but it did not reveal any plans for future updates.
It isn't often that Apple pre-announces new products in its pipeline, but there were growing concerns that Apple no longer cared about professional users, and this is Apple's way of proving otherwise. Apple stressed that it remains committed to the Mac and pro users throughout its entire media briefing.
Apple marketing chief Phil Schiller apologized about the "pause in upgrades and updates" to the Mac Pro, and promised that Apple will have "something great" to replace it, according to TechCrunch. The Mac Pro went 1,202 days without any update prior to today, per the MacRumors Buyer's Guide.
"If we've had a pause in upgrades and updates, we're sorry for that — what happened with the Mac Pro — and we're going to come out with something great to replace it."
Schiller also apologized about the current Mac Pro's lack of upgradability and expandability, per Daring Fireball:
We're not going to get into exactly what stage we're in, just that we told the team to take the time to do something really great. To do something that can be supported for a long time with customers with updates and upgrades throughout the years. We'll take the time it takes to do that. The current Mac Pro, as we've said a few times, was constrained thermally and it restricted our ability to upgrade it. And for that, we're sorry to disappoint customers who wanted that, and we've asked the team to go and re-architect and design something great for the future that those Mac Pro customers who want more expandability, more upgradability in the future. It'll meet more of those needs.
Schiller said Apple chose to be more transparent with today's news because it "cares deeply" about pro users that "invest so much" in the Mac:
"We'll talk about what's going on and frankly be a little more transparent with some of the things we're doing, some of the places we're going, because our pro users desire that and we care deeply about them and we're dedicated to communicating well with them and helping them understand what we're doing and what we're up to. We want to be as transparent as we can, for our pro users, and help them as they make their buying decisions. They invest so much in the Mac, we want to support them, and we care deeply about them. So that's why we're here."
The overall tone was that Apple is committed to the Mac, even if the iPhone accounts for some two-thirds of Apple's revenue.
We're committed to the Mac, we've got great talent on the Mac, both hardware and software, we've got great products planned for the future, and as far as our horizon line can see, the Mac is a core component of the things Apple delivers, including to our pro customers.
In the end, the comparatively small but vocal community of pro users was loud enough that Apple likely felt it needed to respond now, rather than keep its plans for new products under wraps until later. It's exciting news for Apple's pro customers, even if some patience is still required until Apple's roadmap materializes.