Apple Releases iOS 12.1 With eSIM Support, Real-Time Depth Control, Group FaceTime, New Emoji and More
Apple today released iOS 12.1, the first major update to the iOS 12 operating system designed for the iPhone and the iPad. iOS 12.1 comes more than a month after the September release of iOS 12 and a few weeks after iOS 12.0.1, a bug fix update.
The update is available on all eligible devices over-the-air in the Settings app. To access the update, go to Settings -> General -> Software Update. As with all iOS updates, iOS 12.1 is free to download.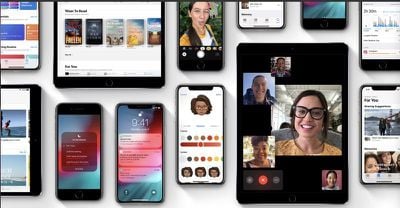 Today's update adds quite a bit of new functionality to iOS devices, especially Apple's newest models, the iPhone XS, XS Max, and XR.
iOS 12.1 brings support for the eSIM, a digital SIM that lets you activate a cellular plan from a carrier without the need to use a physical SIM card.
With eSIM support, dual-SIM functionality is available on the iPhone XR, XS, and XS Max, enabled through the existing physical SIM slot and the eSIM in all countries with the exception of China. In China, the new iPhones have two SIM card slots.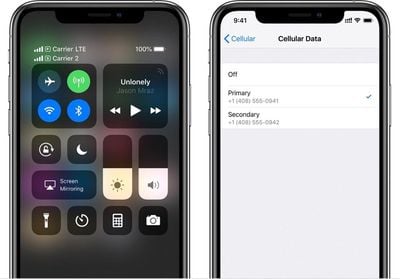 Carriers will need to implement support for eSIM functionality to work even after it's been turned on in iOS 12.1. In the U.S., AT&T, Verizon, and T-Mobile plan to support eSIM.
Also for the iPhone XS, XS Max, and XR, the iOS 12.1 update introduces a new real-time Depth Control feature, which lets you adjust the depth of field of your Portrait Mode photos before you capture them.


In earlier versions of iOS 12, Depth Control is only available for post-capture editing purposes. To use Depth Control when composing an image, tap on the "F" icon at the top of the screen and then drag the slider to adjust the amount of background blur in the image.
There are also new features that are coming to all iPhones and iPads. iOS 12.1 reintroduces the Group FaceTime feature that was removed from iOS 12 during the beta testing period because Apple needed more time to finish it.
Group FaceTime is designed to let iPhone, iPad, and Mac users
conduct video and audio chats
with up to 32 participants at one time, with new camera effect features like filters, stickers, Animoji, and Memoji included.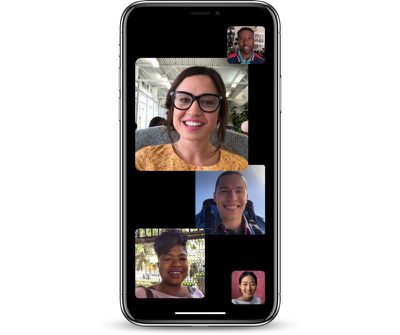 Group FaceTime will be limited on older Apple devices. On iPhone 5s, iPhone 6 and iPhone 6 Plus, it will be available in an audio-only capacity with no video. Group FaceTime is not available on iPad mini 2, iPad mini 3, and iPad Air. Group FaceTime with video works on all other devices with an A8X processor or later.
Other FaceTime features are included in iOS 12.1 as well, such as automatic detection of active speakers to surface the icon of the person who is speaking, ringless notification to let you join a call without being disruptive, and Messages integration for starting a Group FaceTime call right from the Messages app from a group chat.
iOS 12.1 brings support for Unicode 11, adding more than 70 new emoji to iPhones and iPads. Options include face with hearts, woozy face, pleading face, red hair, white hair, superhero, raccoon, llama, peacock, mango, cupcake, bagel, and more.




We have a full list of all of the new emoji coming in the iOS 12.1 update available here.



Apple told iPhone XR reviewers that the iOS 12.1 update will also introduce camera tweaks to address complaints of excessive skin-smoothing by the front and rear-facing cameras in the iPhone XS, iPhone XS Max, and iPhone XR.
These phones use a "Smart HDR" feature combine multiple images at different exposure levels, which can result in excessive noise reduction that creates a smoothing effect over the image, which is noticeable on skin. Apple is addressing this issue by using a shaper base frame for Smart HDR, as outlined in the release notes.
iOS 12.1 also addresses several bugs and improves performance. Notably, iPhone XS, XS Max, and iPhone XR users will be pleased to hear that the update improves cellular connectivity. Apple's full release notes, complete with bug fixes included in the update, are below:
iOS 12.1 introduces Group FaceTime, adds over 70 new emoji, and includes support for Dual SIM with eSIM for iPhone XS, iPhone XS Max, and iPhone XR. This update also includes bug fixes and improvements.

Group FaceTime
Adds support for video and audio calls with up to 32 participants simultaneously
Encrypted end-to-end so your conversations remain private
Start Group FaceTime right from a group Messages conversation, or join an active call at any time

Emoji
Over 70 new emoji, including new characters with red hair, gray hair and curly hair, new emoji for bald people, more emotive smiley faces and additional emoji representing animals, sports and food

Dual SIM support
Introduces Dual SIM with eSIM which allows two numbers in one device for iPhone XS, iPhone XS Max, and iPhone XR

Other improvements and fixes
- Introduces Depth Control in Camera preview for iPhone XS, iPhone XS Max, and iPhone XR
- Improves cellular connectivity for iPhone XS, iPhone XS Max, and iPhone XR
- Adds the ability to change or reset your child's Screen Time passcode using Face ID or Touch ID
- Fixes an issue where the sharpest reference frame was not always selected in front-facing photos for iPhone XS, iPhone XS Max, and iPhone XR
- Resolves an issue that caused messages to be merged into one thread when two users were signed in with the same Apple ID on multiple iPhones
- Addresses an issue that prevented some voicemails from appearing in the Phone app
- Resolves an issue in the Phone app that could cause phone numbers to appear without their corresponding contact name
- Fixes an issue that could prevent Screen Time from reporting specific websites in the activity report
- Addresses an issue that could prevent adding or removing family members from Family Sharing
- Adds a performance management feature to prevent the device from unexpectedly shutting down, including the option to disable this feature if an unexpected shutdown occurs, for iPhone X, iPhone 8 and iPhone 8 Plus
- Adds the ability for Battery Health to inform users that it is unable to verify if a genuine Apple battery is in iPhone XS, iPhone XS Max, and iPhone XR
- Improves reliability of VoiceOver in Camera, Siri, and Safari
- Fixes an issue that could cause MDM Device Enrollment to report an Invalid Profile error for some enterprise users

For information on the security content of this update, please visit this website:
https://support.apple.com/kb/HT201222
For more information on all of the new features that were introduced in Apple's iOS 12 update that preceded iOS 12.1, make sure to check out our iOS 12 roundup.