Apple Planning to Fix 'BeautyGate' Skin-Smoothing Camera Effect in iOS 12.1 Update
This morning reviews for Apple's iPhone XR were released, and among them were The Verge's impressions on the new smartphone. In a section of the review that focuses on the iPhone XR's camera, the site notes that Apple is planning to address the issue of "BeautyGate" in the upcoming iOS 12.1 update, which is currently being tested by developers and public beta testers.
BeautyGate began when iPhone XS and XS Max users started noting that selfies captured on the new smartphones were applying a skin-smoothing effect or "beauty filter," resulting in photos that looked quite different from those taken on the iPhone X or earlier iPhones. All three of Apple's new 2018 iPhones have a 12-megapixel rear-facing wide-angle camera lens (while the iPhone XS and XS Max have an additional 12-megapixel telephoto lens), as well as the exact same front-facing TrueDepth camera system.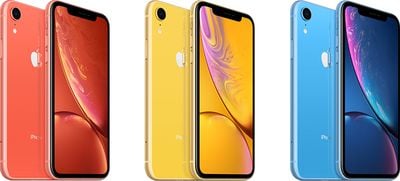 With all of the same tech inside of it, iPhone XR is now facing reports of skin-smoothing camera effects in its first reviews, which caused The Verge to ask Apple about the issue. In essence, Apple's new iPhones are taking multiple pictures at varying exposure levels, requiring noise reduction that creates a smoothing effect over the entire image, not just specifically on skin tones. While this "Smart HDR" feature brings out more details in highlights and shadows, when faces show up in an image they sometimes appear tuned and artificial. This is what Apple is aiming to fix:

Apple told me that the forthcoming iOS 12.1 update, currently in public beta, will address the issue of the front camera appearing to smooth out skin by picking a sharper base frame for Smart HDR, but I wasn't able to test it yet.
As the BeautyGate scandal grew, earlier in the month YouTuber Jonathan Morrison challenged user's perception of skin-smoothing effects in a video. Before the video, he shared two selfies on Instagram that he claimed were taken on Google Pixel 2's Portrait Mode, and then asked for his viewers' opinions. Many responded by touting the Pixel 2's quality, pointing out that it didn't need a beauty filter like iPhone XS. A few days later, Morrison revealed that both selfies were captured on an iPhone XS Max, not a Google Pixel 2. In the reveal video, he stated, "I just wanted it to be a little bit of a lesson out there: don't let a preconceived notion or headline skew your judgement."
The iPhone XR is getting solid reviews from numerous media outlets today, which tout the smartphone's lengthy battery life, performance and speed, quality Liquid Retina LCD display, and colorful paint jobs. As The Verge points out in its review, the real difference between the iPhone XR and XS are the 6.1-inch LCD screen vs the 5.8-inch OLED screen: "The real question for iPhone buyers is whether the high-res OLED display on the XS is worth $250 more than the XR. Because otherwise, the XR offers almost everything you'd want in a 2018 phone."