Some iPhone XS and XS Max Units Won't Start Charging While Screen is Turned Off [Fix Coming in iOS 12.1]
A number of iPhone XS and iPhone XS Max owners in the Apple Support Communities and MacRumors Forums report that the devices fail to start charging when a Lightning cable is plugged in while the screen is turned off.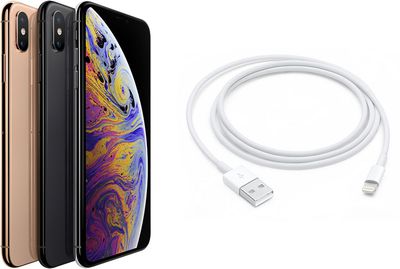 As with many crowdsourced issues, experiences vary. In most cases, the iPhone XS or iPhone XS Max begins charging once the user wakes the device by tapping or raising the screen. However, some users report having to both wake the iPhone and disconnect and reconnect the Lightning cable to get a charge.
In rarer cases, the iPhone stops responding entirely at some point after a Lightning cable is plugged in while the screen is turned off.
Lewis Hilsenteger demonstrated the issue on his popular YouTube channel Unbox Therapy today by plugging a Lightning cable into one iPhone X, four iPhone XS, and four iPhone XS Max units. While the iPhone X began to charge, it appears two of the iPhone XS units and three of the iPhone XS Max units did not.
Unbox Therapy's video uses the hashtag #ChargeGate
Affected customers have documented the issue in at least a dozen discussion threads across the web, including the Apple Support Communities, MacRumors Forums, Reddit, Twitter, YouTube, and other forums and platforms. It's unclear how widespread the issue is at this time, but not everyone is affected.
Some users have speculated the issue could be related to USB Restricted Mode, introduced in iOS 11.4.1, which prevents an iPhone, iPad, or iPod touch from communicating with USB accessories via the Lightning connector if one hour or longer has passed since the device was last unlocked.


However, while USB Restricted Mode is enabled by default in iOS 12, Hilsenteger and others say disabling the feature does not help. Apple also has a support document that ensures "your iPhone, iPad, or iPod touch charges as usual when it's connected to a USB power adapter" with the feature toggled on.
In the YouTube comments on the Unbox Therapy video, some users claim to be experiencing the same issue on older iPhones and iPads, so there is a decent chance this is a software issue that could be addressed in a future iOS 12 update. In the meantime, there does not appear to be a workaround.
If you are affected by this issue, we recommend contacting Apple Support. Apple frequently passes on device information and diagnostics to its engineering teams to address potential bugs like these, so all feedback helps.
Apple did not respond to multiple requests for comment, but we'll update this article if we receive any information.
Update: Apple has confirmed that this issue will be addressed in iOS 12.1.