HomePod Sales May Be Closer to 1-1.5 Million Than 3 Million Since the Speaker Launched
HomePod shipments totaled an estimated 700,000 units in the second quarter of 2018, giving Apple a roughly six percent share of the worldwide smart speaker market, according to research firm Strategy Analytics.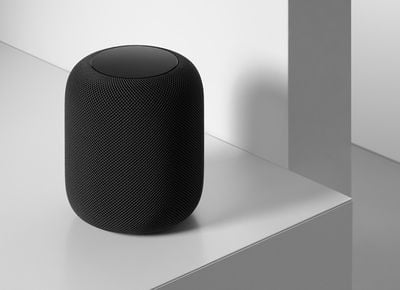 Strategy Analytics previously estimated HomePod shipments totaled 600,000 units in the first quarter of 2018, suggesting that worldwide shipments have reached 1.3 million units since the speaker became available to order in the United States, Australia, and the United Kingdom in late January.
That figure is much lower than one shared by research firm Consumer Intelligence Research Partners, which recently estimated Apple has sold three million HomePods in the United States alone since the speaker launched.
The significant variance in the datasets stems from the fact that Apple doesn't disclose HomePod sales, instead grouping the speaker under its "Other Products" category in its earnings reports, alongside the Apple Watch, Apple TV, AirPods, Beats, iPod touch, and other Apple and third-party accessories.
Apple reported revenue of $3.74 billion from its "Other Products" category last quarter, up 37 percent from $2.73 billion in the year-ago quarter.
Shipments aren't sales, either, so it's impossible to know exactly how many HomePods ended up in the hands of customers.
If we had to guess, we'd say the Strategy Analytics numbers are probably more within the ballpark, as the HomePod is a niche product. The speaker is also available in just six countries, after launching in Canada, France, and Germany in June, with no indication when availability may expand to other regions.

Versus the Competition
HomePod was the world's fourth most popular smart speaker in the second quarter, behind the Amazon Echo, Google Home, and Chinese company Alibaba's Tmall Genie, according to Strategy Analytics.
Amazon remained the leader in the category last quarter, with the Echo commanding an estimated 41 percent market share, while the Google Home finished runner-up with an estimated 27 percent market share, according to Strategy Analytics. Alibaba took third place with an estimated seven percent market share.


While the HomePod has made somewhat of a dent, Apple still has significant ground to make up, which is to be expected given its smart speaker launched around two to three years after its biggest competitors.
It may be tough for Apple to gain further market share unless it releases a more competitively priced model, as the HomePod at $349 is considerably more expensive than the Amazon Echo, priced from $50, and the Google Home, $129.
To that end, rumors suggest Apple may have a lower-priced HomePod or a Siri-enabled Beats speaker in its pipeline.