HomePod Estimated to Have 3 Million Sales and 6% Market Share in United States
The installed base of smart speakers in the United States, including the Amazon Echo, Google Home, and HomePod, has reached a combined 50 million units, according to research firm Consumer Intelligence Research Partners.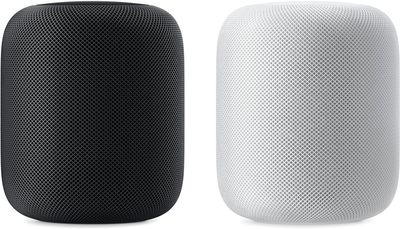 CIRP estimates that, of that installed base, the HomePod has increased its market share to six percent as of the second quarter of 2018, ending June 30, implying that HomePod sales have now crossed three million in the United States.
By comparison, the Amazon Echo has 70 percent market share in the United States, with the Google Home at 24 percent, so the HomePod has significant ground to make up, which is to be expected since it only launched this past February, two to three years after its biggest competitors.
Even now, the HomePod is only available in the United States, United Kingdom, Australia, Canada, France, and Germany.


Josh Lowitz, Partner and Co-Founder of CIRP, suggested that it may be difficult for Apple to gain additional market share among smart speakers, unless it releases a more competitively priced model. HomePod is priced at $349, while the Amazon Echo starts at $50, and the Google Home is regularly $129.
Apple introduced HomePod in the first quarter, and now has a small but meaningful share. It took a small share of the market from both Amazon and Google. Still, Amazon has a two-year head start, and Amazon and Google each have a low-priced device that accounts for at least half of unit sales, so it's not clear how much further Apple can establish itself in the market without a more competitive model.
Back in April, well-connected Apple analyst Ming-Chi Kuo said Apple was "mulling" a "low-cost version" of the HomePod, potentially due to shipments of the current version potentially being "far below market expectations."
A report out of China said the lower-cost HomePod could be priced between $150 and $200, although it's unclear what tradeoffs would be made to achieve that price point. Most reviews agree the HomePod sounds great, but isn't so smart, so it's hard to envision that Apple would compromise on sound quality.
A few months ago, another Chinese report said the lower-priced HomePod could actually be a Siri-enabled Beats speaker.
Apple doesn't disclose HomePod sales, instead grouping it under its "Other Products" category in its earnings reports, alongside the Apple Watch, Apple TV, AirPods, Beats, iPod touch, and accessories. In May, research firm Strategy Analytics estimated HomePod shipments totaled 600,000 in the first quarter.
CIRP said its findings are based on its survey of 500 owners of the Amazon Echo, Google Home, or HomePod in the United States, who owned one of these devices as of June 30, 2018. The survey was conducted between July 1 and July 18.