Tim Cook Visits Ireland as Apple Promotes Its Support of Over 1.7 Million Jobs in Europe
Apple CEO Tim Cook has arrived in Ireland, the latest destination on his European tour, which has included stops in Italy and the Netherlands.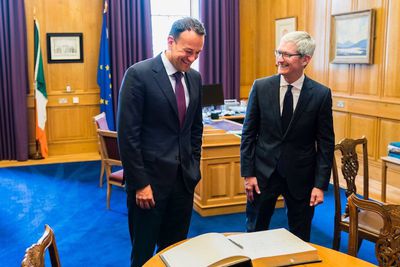 Apple CEO Tim Cook and Ireland's Taoiseach Leo Varadkar
Leo Varadkar, the Taoiseach or Prime Minister of Ireland, tweeted that he
had a "good meeting" with Cook
in the capital of Dublin on Monday. It's unclear what was discussed, but it appears to have been a routine meeting.
Cook has since headed to Cork, where Apple's European headquarters are located. There, he will formally announce an expansion of its Hollyhill campus. Apple says a new building will provide space for an additional 1,400 employees. Since 2012, Apple says it has invested nearly €220 million to develop the facility.

Apple's campus in Cork
Apple, on its recently updated
Job Creation page
in Europe, says it is Cork's "largest private employer" and "proud" that many of its employees in the area have worked at the company for decades.
Apple's website notes that it "has been based in Cork for over 35 years and now directly employs 6,000 people throughout Ireland supporting all aspects of the business." The company also says its Irish team has "doubled in size over the last five years and includes over 80 different nationalities."
Apple says Cork is home to its "only wholly owned manufacturing facility in the world. It provides configure-to-order iMacs which are for customers across Europe, Middle East, and Africa." AppleCare support for those regions is also based in Cork.

Nicole, a Product Quality Engineer, at Apple's iMac facility in Cork
While in Cork, Cook also visited The English Market, according to photos shared on Twitter. Earlier, in Dublin, he met with developers from
Hostelworld
. The app, featured on Apple's website, allows travelers to search for and book thousands of hostels in more than 170 countries around the world.
All of this amounts to good PR for Apple in Ireland, just over a month after it
abandoned its plans to build a $1 billion data center in the country
due to "delays in the approval process," primarily due to
concerns from some local residents
. Apple and Ireland are also in a
major tax dispute with the European Commission
.
Apple's updated Job Creation page also reveals that it now supports 1.7 million jobs across Europe, including around 1.5 million jobs attributable to the App Store ecosystem, some 170,000 jobs supported by Apple's supply chain in Europe, and some 22,000 direct Apple employees in 19 countries across the continent.
Since the App Store was created, Apple says it has now paid €20 billion to European app developers. The company says the United Kingdom leads Europe in terms of jobs linked to App Store development, at 291,000.