Apple has been trying to get its $1 billion data center in County Galway, Ireland built for well over two years now, and last week the company finally won approval for construction by the Irish High Court. While it was expected that Apple would now move forward and begin planning for construction, two local residents have brought up a new legal challenge for the company.
As reported by The Galway Advertiser (via Business Insider), two Athenry residents have requested a certificate to appeal the court ruling made last week that granted Apple permission for the project. The case is said to be due back to the court on Wednesday, October 25. Previously, the same individuals challenged Apple's data center by citing multiple environmental concerns, but their challenge was rejected.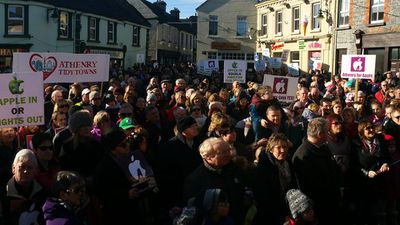 Environmental protection issues have been the source of the objector's arguments for the last few years,
originally arguing
that Apple's data center could have negative effects on local animal populations, and could lead to potential flooding concerns on a neighboring golf course. Then, the data center's
proximity to a local nuclear power plant
was used to bring up new objections to the site's construction, despite the plant having been shut down for years.
Many locals still support Apple's data center in the area, with the leader of the Apple for Athenry Facebook group telling Business Insider that "the collective hearts of Athenry sank" when the new legal challenge was brought up this week.
Apple originally wanted the data center to be up and running by early 2017, but these repeated setbacks have greatly elongated the company's timeline for the site. Once it is functional, the Derrydonnell Forest data center will see ongoing construction over 10-15 years, supporting services like the App Store, Apple Music, Apple Pay and iCloud.
Update 11/1: Ireland's High Court has rejected the residents' appeal against Apple's data center, "clearing the way for the project to proceed" (via Reuters).