Apple Hires High-Profile Senior Waymo Engineer for Self-Driving Car Project
Apple has hired Jaime Waydo, an autonomous vehicle expert who previously worked as a senior engineer at Google's Waymo, reports The Information. An Apple spokesperson confirmed the hiring, but declined to provide details on what she would be working on.
Waydo, who served as head of systems engineering at Waymo, was "instrumental," according to former colleagues that spoke to The Information. She was in charge of verifying the safety of Waymo's prototypes and provided input on when it was safe enough to launch on-the-road tests in Phoenix in 2016.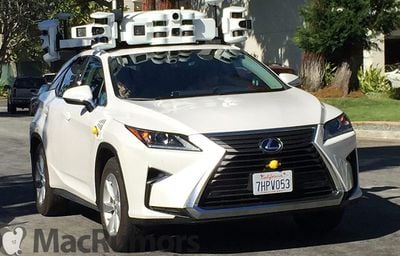 Prior to working at Waymo, Waydo was a senior engineer at NASA's Jet Propulsion Laboratory for more than a decade, where she helped develop a rover vehicle that has driven on Mars.
The Information speculates that Apple's hiring of Waydo could indicate that it is making progress towards launching a prototype vehicle, but the report also says that the car project continues to suffer from a "lack of communication among teams."
Apple originally had ambitious self-driving vehicle plans that included a full autonomous vehicle, but those plans were scaled back and Apple shifted focus to autonomous driving software. Apple has been testing Lexus vehicles equipped with its autonomous driving software since April 2017.
In May, Apple signed a deal with Volkswagen to use Volkswagen vans for its on-campus shuttle program called "PAIL," which is designed to transport employees around its various campuses and office buildings in the San Francisco Bay Area. The Volkswagens will be autonomous, powered by Apple's self-driving software.
Apple's self-driving shuttle program has been described as behind schedule and "consuming nearly all of the car team's attention," with the company having no clear idea of what it will do with the autonomous driving project beyond the shuttle efforts.