iPhone X Plus Said to Feature Triple-Lens Rear Camera in 2018, Despite Most Rumors Pointing to 2019
A new report suggests that the next flagship smartphones from Apple and Samsung could be equipped with three rear-facing cameras.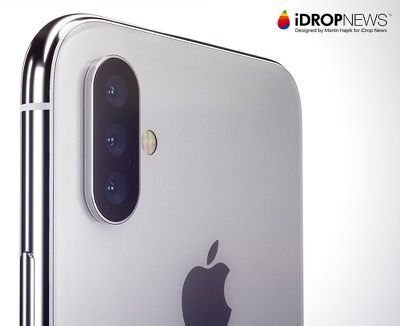 A triple-lens iPhone X mockup by Martin Hajek via iDrop News
The Korea Herald
claims that the so-called iPhone X Plus, the widely rumored 6.5-inch version of the iPhone X expected to be announced this September, and Samsung's next-generation Galaxy S10, likely to be released in early 2019, will both sport a trio of lenses on the backside.
The prediction about the Galaxy S10 comes from Kim Dong-won, an analyst with investment firm KB Securities, based in South Korea:
Samsung, which has a lower-than-expected demand for its latest Galaxy S9 lineup, will consider to equip its next premium phone with the triple cameras and a 3-D sensor to reinvigorate its smartphone business.
The prediction about the iPhone X Plus is only briefly mentioned in what is otherwise a Samsung-focused report:
One of Apple's next premium smartphones, reportedly named as the iPhone X Plus, is also anticipated to come fitted with three camera lenses on the rear.
While this the fourth time we've heard about an upcoming iPhone with three rear cameras, all of the earlier reports have suggested it will be a 2019 move at the earliest, so the chances this is a 2018 move seem unlikely.
Earlier this year, for example, former KGI Securities analyst Ming-Chi Kuo claimed the 6.5-inch iPhone will have a dual-lens rear camera.

Huawei P20 Pro
The Korea Herald
could be right about the what, but wrong about the when. Triple-lens smartphones are only just reaching the market, starting with the
Huawei P20 Pro
in March, and Apple often waits to perfect a technology rather than rushing to include a feature to compete with the best possible tech specs.
In the end, 2019 could end up being the year of triple-lens smartphones, starting with the Galaxy S10 in the spring and the iPhone in the fall.
The third lens would likely enable 3x optical zoom on an iPhone for the first time, enabling users to magnify the image in the viewfinder by up to three times without a blurry reduction in quality like digital zoom. iPhone 7 Plus, iPhone 8 Plus, and iPhone X models feature 2x optical zoom for comparison.
The three-lens system could also enable advanced 3D sensing for augmented reality, an area in which Apple CEO Tim Cook has expressed interest.