KGI: 6.1-Inch iPhone to Have Single-Lens Rear Camera, Aluminum Frame, 3GB RAM, and No 3D Touch, Cost $700-$800
KGI Securities analyst Ming-Chi Kuo today shared additional details about the rumored 6.1-inch iPhone that he expects to launch in the second half of 2018.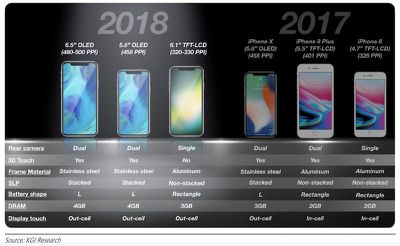 Note: KGI's image has a slight error. iPhone 8 Plus has 3GB of RAM.
We already know the device is said to have some iPhone X features, including Face ID, but with some design compromises to achieve a cheaper price point. That will include an LCD screen, as known, and now Kuo says the device will have an aluminum frame, single-lens rear camera, and no 3D Touch.
It's unclear if the back of the iPhone will also be forged from aluminum rather than glass, a tradeoff that would inhibit wireless charging.
In a research note obtained by MacRumors on Tuesday, Kuo added that the 6.1-inch iPhone also won't adopt the iPhone X's stacked logic board and L-shaped battery pack. Instead, he said the device will have a standard non-stacked logic board and rectangular battery pack like the iPhone 8 and iPhone 8 Plus.
Kuo believes the 6.1-inch iPhone will be a mid-range device priced between $700 and $800 in the United States, up from his previous $650 to $750 estimate. The device is expected to be announced around September-October as usual alongside a new 5.8-inch iPhone X and a larger 6.5-inch version dubbed iPhone X Plus.
The research note reads in part:
Development schedule of new 6.1" LCD iPhone slightly behind 6.5" and 5.8" OLED models, but it may enjoy extended longevity into 1H19F, boosting slow season outlook: We predict the 6.1" LCD iPhone will differ from the 6.5" and 5.8" OLED models in terms of certain specs, for reasons of cost/price and product segmentation. However, this shouldn't have any effect on key user experience. We revise up our price projection for the 6.1" model from $650-$750 to $700-$800, and remain positive on shipments momentum.
KGI Securities expects the 6.1-inch iPhone to account for around 50 percent of the new iPhone lineup's shipments, with sales remaining strong into 2019.