Mercedes-Benz's New MBUX System Will Feature Wireless CarPlay
Mercedes-Benz has confirmed that its new MBUX infotainment system will feature support for wireless CarPlay in future vehicles.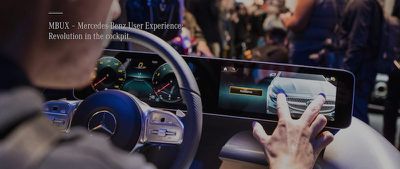 The all-new 2019 A-Class will be Mercedes-Benz's first vehicle equipped with the MBUX system when it goes on sale later this year, according to a spokesperson for the automaker's parent company Daimler in Germany. Wireless CarPlay will expand to other new Mercedes-Benz vehicles in 2019, the spokesperson told MacRumors.
The automaker previously announced that the 2019 A-Class will be available in a sedan model in the United States, while a hatchback version will also be sold in Australia, Canada, the United Kingdom, and select other regions. The spokesperson said wireless CarPlay will be available in all of those markets.
A spokesperson for Mercedes-Benz in the United States declined to comment on MBUX's wireless capabilities until midsummer. It's still early, so it's possible the company's exact vehicle and market rollout of wireless CarPlay could change.
Barring announcements from other automakers, Mercedes-Benz will likely become the second to offer vehicles with wireless CarPlay functionality, after BMW rolled out the feature starting with its 2017 5 Series a few years ago. Apple first introduced wireless CarPlay in 2015 alongside iOS 9.
Alpine Electronics also offers an aftermarket infotainment system with wireless CarPlay for self-installations in other vehicles.
Every other automaker that offers CarPlay currently uses a wired implementation that requires connecting the iPhone to the system with a Lightning to USB cable. The platform is available in well over 300 vehicle models, and it's generally considered to be a highly desired feature with strong customer satisfaction.