New Vehicle Owners Largely Satisfied With Apple CarPlay and Android Auto
New vehicle owners who have purchased a car that's equipped with Apple CarPlay or Android Auto are satisfied with the system and are increasingly relying on it for all in-car tasks, according to a new report released today by Strategy Analytics.
In a survey querying new vehicle owners that have Apple CarPlay or Android Auto installed in their vehicles, Strategy Analytics found that 34 percent of CarPlay owners rely on CarPlay for all of their audio infotainment needs, while 27 percent of Android Auto users use the Android platform exclusively for audio infotainment.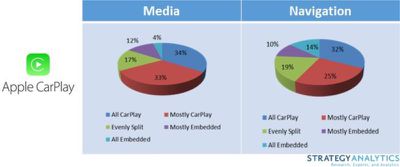 32 percent of CarPlay users and 33 percent of Android Auto users rely on those systems for all of their navigation needs, with CarPlay's slightly lower number here likely attributable to customers who continued to be unsatisfied with Apple Maps compared to other mapping apps like Google Maps or Waze.
Speech recognition usage is said to be "strong" across both sets of users, with CarPlay owners taking advantage of Siri for hands-free tasks while driving.
Overall, more than 85 percent of CarPlay and Android Auto users are "somewhat or very satisfied" with their system, and more than 90 percent are likely to recommend those systems to others.
In a similar report from October, Strategy Analytics learned that CarPlay is becoming an increasingly important feature that consumers look for when purchasing a vehicle.
In the United States, for example, 23 percent of respondents said that CarPlay was a "must have" feature for a new car, while another 56 percent said they were "interested" in vehicles equipped with CarPlay.
While CarPlay has been available since 2015, car manufacturers did not begin widely adopting the feature until mid-2016. CarPlay is now included in many new vehicles from a wide range of manufacturers, with more than 200 vehicles on the market offering CarPlay support.