2017 BMW 5 Series Sedan Will Feature Wireless CarPlay Support
BMW today unveiled its 2017 BMW 5 Series Sedan, which will be one of the first cars to include wireless CarPlay support. According to press materials released today, iPhones will be able to wirelessly integrate with the BMW iDrive system, connecting to the car over Bluetooth instead of through a Lightning cable.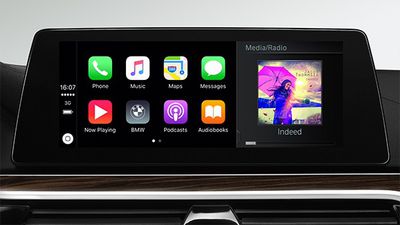 CarPlay is available in the BMW 5 Series Sedan too. Integrating the smartphone into the vehicle's system environment allows the phone, together with any apps that are on it, to be operated via the screen in the car by means of the iDrive Controller or touch control. BMW is the first carmaker to integrate Apple CarPlay without any cables at all.
Wireless CarPlay functionality was first introduced by Apple in 2015 alongside iOS 9, but thus far, no in-car infotainment system has been released that fully supports the feature.
It is not clear why wireless CarPlay support has been slow to roll out, but Apple has prevented at least one company from demoing the feature. Volkswagen attempted to demo wireless CarPlay functionality in January of 2016, but Apple said no. It is not clear when Volkswagen will be releasing a vehicle with wireless CarPlay or when it will see a wider rollout to additional vehicles.
The current CarPlay setup requires users to connect an iPhone to a vehicle using a Lightning cable that plugs into a standard USB port.
The 5 Series Sedan will be available around the world starting in February of 2017.