Quick Takes: WebKit Team Teases 'Cool New Apple Products' as Rumors Persist About Red iPhones
In addition to our standalone articles covering the latest news and rumors at MacRumors, this Quick Takes column provides a bite-sized recap of other headlines about Apple and its competitors on weekdays.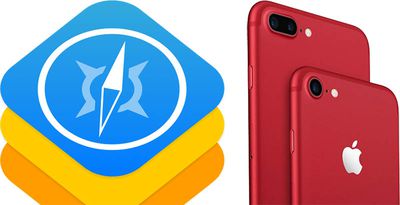 Monday, April 2
WebKit's verified Twitter account teases "cool new Apple products" in the pipeline: WebKit is the open source web browser engine used by Safari on macOS and iOS, so the tweet from the Apple-owned account could be referring to a wide range of different products.

Pssst! Can you keep a secret? Cool new Apple products are coming and WebKit needs your help to take full advantage of the [redacted]. The WebKit Platform Integration team is waiting to hear from you! https://t.co/lEHK68DWZi — WebKit (@webkit) April 2, 2018



What Apple's education announcements mean for accessibility: Accessibility expert and former special educator Steven Aquino believes that an iPad is far superior to a Chromebook in many levels of special education. Nevertheless, he feels there is enormous potential for Apple to go further. For example, he says Apple could broaden its new Schoolwork app to incorporate Individualized Education Programs.

Red-colored iPhones may still be coming: On March 21, 2017, Apple unveiled a special (PRODUCT)RED edition of the iPhone 7 and iPhone 7 Plus. Rumor has it Apple may do so again this year with the iPhone 8, iPhone 8 Plus, and/or iPhone X at some point this month.

Same and still "unverified" source "confirms" new red colored #iPhone(s) is on his way and may be released this month... — Steve H. (@OnLeaks) April 1, 2018



macOS 10.13.4 and external displays with DisplayLink software aren't playing friendly: In the meantime, DisplayLink has released a new version 4.3 driver that will enable clone mode, but not mirror or extended mode displays on macOS 10.13.4. The notice from DisplayLink's website:


We have become aware that installing macOS release version 10.13.4 will cause DisplayLink connected displays to go blank after the OS upgrade, with the current DisplayLink driver [4.1] installed. Functionality such as Ethernet and audio, where implemented, is unaffected. We have alerted Apple to this issue and are working hard to find a resolution. These features continue to work as expected in macOS 10.13.3.

Chrome Remote Desktop and Hotels.com apps optimized for iPhone X display: The updates are available from the App Store. The wait continues for a handful of other popular apps, including Inbox by Gmail, Google Authenticator, iMovie, and Amazon Alexa.
For more coverage of Apple, visit our Front Page, Mac Blog, and iOS Blog. Also head to our forums to join in the discussion.