DisplayMate: Samsung Galaxy S9 Beats iPhone X With 'Best Performing Smartphone Display'
The OLED display on the Samsung Galaxy S9 is the best smartphone display on the market, according to lab analysis by DisplayMate. The screen on Samsung's latest handset showed consistent Top Tier display performance and became the first display to receive All Green ratings in all of DisplayMate's lab test and measurement categories.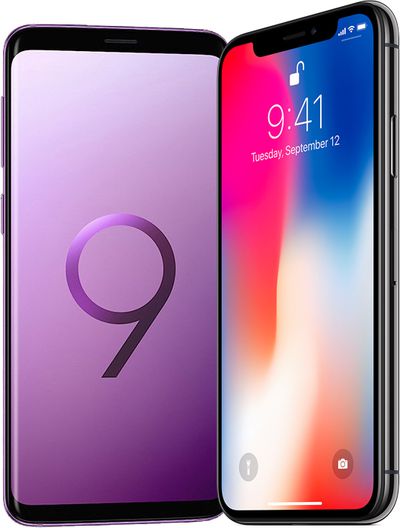 Based on our extensive Lab Tests and Measurements, the Galaxy S9 has an Impressive Display that establishes many new Display Performance Records, earning DisplayMate's Best Performing Smartphone Display Award, and receiving our highest ever A+ grade.
Last year, DisplayMate praised the iPhone X as having the "best performing smartphone display" on a smartphone. It also congratulated Samsung – Apple's iPhone X screen supplier – for developing and manufacturing the "outstanding" OLED panel, but said that it was actually the Apple-developed "Precision Display Calibration" that made the biggest difference, since it transformed the OLED hardware "into a superbly accurate, high performance, and gorgeous display".
However, the Galaxy S9 has now knocked iPhone X off the top spot in DisplayMate's rankings, matching or setting new smartphone display records in several categories including highest absolute color accuracy, highest peak display brightness, largest native color gamut, highest contrast ratio, and lowest screen reflectance. Yet despite all that, the 3K 2960x1440 panel in the S9 is said to have the same power efficiency as the one found on the Galaxy S8 and Galaxy Note 8.
DisplayMate found that the color accuracy of the Galaxy S9's 5.8-inch display is "visually indistinguishable from perfect", thanks to a record-setting high absolute color accuracy of 0.7 JNCD, which is "almost certainly better than your existing smartphone, living room 4K Ultra or HDTV, Tablet, Laptop, and computer monitor". The 2,960 x 1,440 display, with 570 pixels per inch, also set a new reflectance score record with a 4.4 percent reflectance level, which measures display readability in bright conditions.
DisplayMate concluded by emphasizing the "tremendous performance advantages" that OLED displays now have over LCDs, which it said secured OLED as "the definitive premier display technology for Top Tier Smartphones in the foreseeable future over the next 3-5 years". Out of the three new iPhones Apple is rumored to be introducing later this year, two are said to be OLED models measuring in at 5.8 and 6.5 inches, and one is a 6.1-inch lower-cost LCD model. All three are expected to feature Face ID and edge-to-edge displays.
According to KGI Securities analyst Ming-Chi Kuo, the 5.8-inch model will have a display with 458 pixels per inch, indicating the same 1,125 x 2,436 resolution of iPhone X, while the larger "Plus size" 6.5-inch model will offer 480 to 500 pixels per inch. Bloomberg has said the larger model will feature a screen resolution of 1,242 x 2,688, which would put it closer to the pixel density of the 5.8-inch display.
Apple is reportedly sourcing the majority of its OLED displays for the 2018 iPhone lineup from Samsung, but LG Display could provide displays for the 6.5-inch OLED iPhone, and Apple could also tap Sharp and Japan Display for extra supply.