Apple's 6.5-Inch 'iPhone X Plus' Said to Have 1242 x 2688 Resolution, Could Come With Dual-SIM and Gold Color Option
Apple in 2018 will release three new iPhones, according to a report shared by Bloomberg this morning. The three devices, as we've heard before, will include an upgraded version of the iPhone X, "the largest iPhone ever" with a screen size close to 6.5 inches, and a third less expensive model.
Apple is said to be aiming to offer "a model for everyone" to rekindle iPhone sales after iPhone X sales came in lower than analyst expectations last quarter.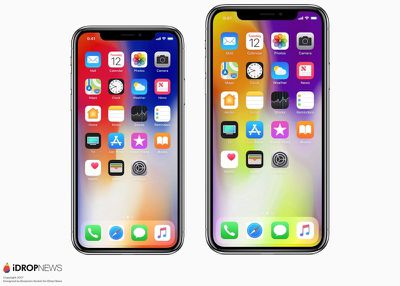 Bloomberg's report confirms details we've been hearing from KGI Securities analyst Ming-Chi Kuo, who often shares accurate insight into Apple's plans. Kuo has said for months now that Apple is working on a second-generation 5.8-inch OLED iPhone, a larger 6.5-inch OLED iPhone that can be thought of as an "iPhone X Plus," and a lower-cost 6.1-inch iPhone with an LCD display.
While the 6.1-inch iPhone will feature a lower price tag, Kuo (and now Bloomberg) say all three devices will feature Face ID. The three devices will also feature edge-to-edge displays with the exception of a notch on the front of each device that will house the TrueDepth camera system.
The two higher-end devices will use A12 processors and will feature stainless steel edges, and at least one model could be available in gold, a color Apple is said to be considering adding. As for the lower-cost model, it will feature aluminum edges to keep costs down. Like the two higher-end models, it will feature a glass back for wireless charging.
For the larger iPhone model, Apple is said to be considering implementing a dual-SIM feature that would make it easier for people to switch carriers when traveling, but Bloomberg says it's not yet clear if the company will implement the feature.
Apple hasn't made a final decision on including the feature and could choose to wait for E-SIM technology, which will connect phones to multiple networks without the need for a removable chip. Apple has wanted to offer E-SIM technology, but some carriers are resistant to the idea and Apple needs their support. A dual-SIM capability would provide a compromise.
Apple's largest iPhone, which will measure in at 6.5 inches, is code named "D33." According to Bloomberg, some prototypes of this device feature a screen resolution of 1242 x 2688. Kuo has previously said the device will feature 480 to 500 pixels per inch, similar to the new 5.8-inch model, codenamed "D32."
Our first look at what could be the display for Apple's larger 6.5-inch iPhone leaked over the weekend, allegedly sourced from an LG Display plant in Vietnam. Apple is rumored to be sourcing displays for the larger 6.5-inch iPhone from LG, so the leak is potentially accurate.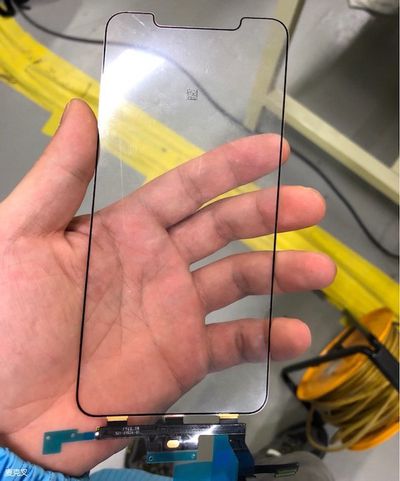 As you might expect, the display component and digitizer looks a lot like an iPhone X display, only larger. The cutout at the top for the TrueDepth camera is visible, but little else can be gleaned from the image.
According to Bloomberg, Apple is already running production tests with suppliers, and so we could start seeing a significant pickup in part leaks in the near future.