iPhone supplier Japan Display has come up with a plan to battle the increasing popularity of organic light-emitting diode (OLED) panel manufacturing, without needing to delve into the costly practice of creating OLED panels itself. According to a new report by The Wall Street Journal, the supplier has figured out a way to manufacture flexible liquid crystal display (LCD) panels using technology and processes it already has at its disposal.
Set to begin mass production in 2018, Japan Display's flexible LCD panels are said to be built with a layer of plastic instead of glass. "While not as flexible as OLED," the company's chief operating officer, Shuji Aruga, mentioned that the panels are bendable enough to manufacture smartphones with the same screen design as Samsung's Galaxy Edge series.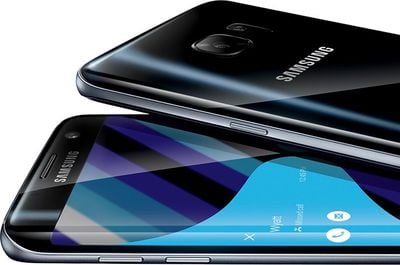 According to people familiar with the matter, Apple has already begun looking at the flexible LCD panels for iPhone models launching in 2018 and beyond.

Japan Display officials said some smartphone makers, which they declined to name, have agreed to adopt the bendable LCD in the next few years. The company also hopes to sell the displays for other uses such as laptop computers and car dashboards.

"Mass production is planned from 2018, and we wouldn't do that without demand from our clients," said Mr. Aruga. Japan Display's major clients, according to its financial statements, include Apple and Huawei Technologies Co.

Bendable displays could help revive growth in a smartphone market that is beginning to get saturated. People familiar with the matter have said Apple is looking at the displays for possible future iPhone models.
In addition to its plan to adapt LCD screens into flexible panels, Japan Display has previously acknowledged interest in OLED production, stating in late 2015 a goal to begin mass production of OLED panels by the spring of 2018. Last November, the supplier was said to be in "advanced talks" with the government-backed fund Innovation Network Corp. of Japan to receive around ¥75 billion ($662 million) in financing.
The bailout was said to be both for improving Japan Display's LCD technology, and potentially mass-producing its own OLED panels. Still, analysts looking at the move think that Japan Display "may not have the funds to pursue both technologies," so it's unclear at this point which panel technology the supplier will ultimately decide to stick with in the future.
For Apple, it's been long-rumored that at least one model of the 2017 iPhone 8 will come with an OLED screen -- supplied by Samsung -- which typically have sharper color contrast and brighter colors compared to LCD screens. Japan Display's domestic rival Sharp is currently expected to provide Apple with OLED panels as well, but not until mid-2018.