LG Display Could Supply OLED Displays for This Year's 'iPhone X Plus'
LG Display saw its shares surge to a one-month high on Wednesday following a report that the company will begin supplying OLED panels to Apple's new range of iPhones this year (via Financial Times).
LG's stock rallied on an Electronic Times report that the South Korean firm would make over 15 million OLED panels for Apple's 2018 range of iPhones. LG is already a supplier of LCD panels, currently used in the iPhone 8 and iPhone 8 Plus, but Samsung dominates supply of OLED displays for Apple's flagship iPhone X. Indeed, last week LG Display revealed in a regulatory filing that it didn't supply any of the OLED panels currently used in the iPhone X.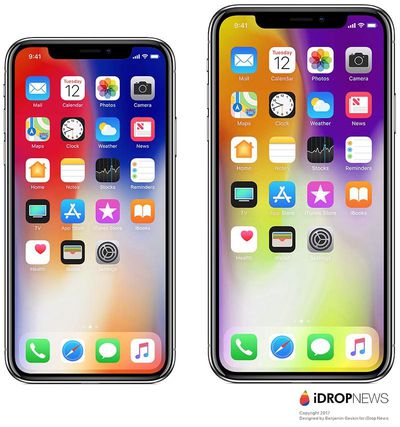 However, that could change this year, since Apple is expected to launch
two new 5.8-inch and 6.5-inch iPhone models with OLED displays
in 2018. According to today's report, LG Display will supply Apple with the 6.5-inch OLED panels, while Samsung will supply the 5.8-inch or 6-inch OLED panels.
Reports have been trickling out since July 2017 that Apple has invested billions of dollars in LG's OLED production capability for smartphones, but the fruits of its investment were thought to be some ways off. LG was initially reported to have secured 45,000 panels per month for future iPhones from 2019, while as recently as September it was suggested that Apple would have to wait until at least next year before it could move beyond Samsung for significant supplies of OLED panels. However, Wednesday's report suggests LG could secure its position as the number two supplier of OLED screens for Apple's iPhones as early as the second half of 2018. LG is said to be planning to mass-produce the panels for Apple at its Gen 6 flexible OLED production line located in Paju, South Korea.
LG came in for scrutiny recently after it emerged that the firm supplied Google with the Pixel 2 XL's OLED displays, some of which were reportedly prone to screen burn-in or image retention issues. It remains unclear whether the problems stemmed from LG or other factors were involved, although the smaller Pixel 2 and original Pixel phones – both with Samsung-supplied OLED displays – have experienced far fewer issues. It's also worth noting that Apple says OLED displays can show "slight visual changes" after extended long-term use and minor screen burn-in is considered normal.
The new iPhone X and iPhone X Plus will likely launch around the usual timeframe of September to October, potentially alongside a new 6.1-inch mid-range model with an LCD display.