Apple Launching 'AC Wellness' Medical Clinics for its Employees
Apple is planning to open two "AC Wellness" health clinics for its employees and their families this spring, reports CNBC. The clinics, detailed on an accompanying AC Wellness website, will serve Apple employees in Santa Clara County, which is where its Apple Park and One Infinite Loop campuses are located.
One of the clinics, the Apple Park Wellness Center, will be located on the Apple Park campus, according job listings posted LinkedIn, Glassdoor, and Indeed.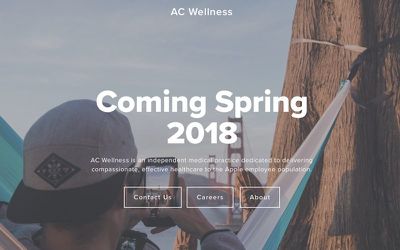 AC Wellness Network is an independent medical practice exclusively dedicated to delivering compassionate, effective healthcare to the Apple employee and dependent population at the Apple Wellness Centers in Santa Clara Valley, including the new Apple Park Wellness Center. AC Wellness Network believes that having trusting, accessible relationships with our patients, enabled by technology, promotes high-quality care and a unique patient experience.
AC Wellness job listings also describe the clinic experience, which is meant to offer a "unique concierge-like healthcare experience" for employees and their dependents. Several positions are open at the AC Wellness locations ahead of their planned opening this spring, with Apple seeking physicians, nurses, a clinical exercise coach, a behavioral health partner, and more.
As Apple prepares to launch its AC Wellness clinics, it has scaled back its partnership with Crossover Health, its current in-house clinic provider. Apple considered purchasing Crossover Health at one point, but no deal materialized after several months of discussion.
Sources that spoke to CNBC said that Apple plans to use its medical clinics as a way to "test out" its health services and products. Apple is exploring several health-related advancements, such as non-invasive blood glucose monitoring, and it has begun heavily investing in health-related research with CareKit and ResearchKit.
Most recently, Apple launched a medical study in partnership with Stanford to determine whether the Apple Watch can accurately predict irregular heart rhythms. The study is live and can be joined by downloading the Apple Heart Study app from the App Store.