Apple Still Expected to Allow iPhone and iPad Apps to Run on Macs Later This Year
While multiple reports suggest Apple has decided to place a greater focus on improving the performance and security of iOS and macOS, which will delay some new features until next year, it appears the company still aims to introduce the ability for Macs to run iPhone and iPad apps later this year.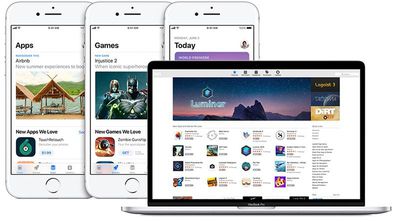 Mark Gurman and Ina Fried, reporting for Bloomberg News and Axios respectively, both claim the framework for combined apps remains on Apple's software roadmap for 2018, despite some planned iOS 12 features likely being pushed back to 2019, including a new home screen with a redesigned grid of app icons.
Apple's software engineering chief Craig Federighi reportedly revealed the plans during a meeting with employees earlier this month.
Last month, Gurman reported that developers will be able to design a single third-party app that works with both a touchscreen, and a mouse or trackpad, depending on whether it's running on an iPhone, iPad, or Mac. Apple would presumably also streamline its own apps on the desktop and mobile.
The report didn't explain how all of this will work, but Apple could be planning to release a new SDK with new APIs that enable true cross-platform functionality. Right now, Apple's UIKit and AppKit frameworks provide the required infrastructure for iOS and macOS app user interfaces respectively.
It's worth noting that Apple already has a private framework called UXKit, used for the Photos app on Mac. In 2015, Jason Snell said UXKit "sits above the Mac's familiar AppKit frameworks and strongly resembles UIKit on iOS."
Apple tentatively plans to begin rolling out the change in iOS 12 and macOS 10.14, so there will likely be an announcement at WWDC 2018 around June. Following a few months of beta testing, major new versions of iOS and macOS are typically publicly released in September and October respectively.
The project is reportedly codenamed "Marzipan" within Apple. Gurman speculated that universal apps would make it easier for Apple to one day create a single operating system for all of its devices, should it ever go down that avenue. At the very least, it could bring some renewed attention to Mac apps.
Apple would be following in the footsteps of Microsoft's Universal Windows Platform, aimed at helping developers create universal apps that run across Windows 10 and Windows 10 Mobile, the latter of which is being phased out.