Apple Plans to Let Developers Release Universal Apps That Work Across iPhone, iPad, and Mac
Apple aims to allow developers to release universal apps that work across iPhone, iPad, and Mac as early as next year, according to Bloomberg News.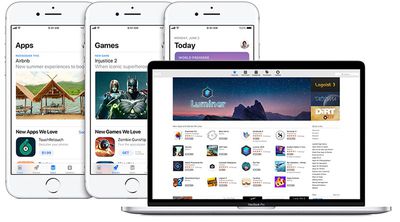 Starting as early as next year, software developers will be able to design a single application that works with a touchscreen or mouse and trackpad depending on whether it's running on the iPhone and iPad operating system or on Mac hardware, according to people familiar with the matter.
Apple tentatively plans to begin rolling out the change in iOS 12 and macOS 10.14 next year, and it could announce the news as soon as WWDC 2018 in June, according to the report. The exact timeline is subject to change.
Apple typically previews the next major versions of its iOS and macOS operating systems at WWDC in June, with beta versions of each platform available to developers and public testers until September, so it's possible APIs for universal apps will begin rolling out in the pre-release software.
Apple currently requires developers to design separate apps for iOS and macOS, but iPhone and iPad apps often receive more attention than their Mac counterparts in a mobile-first world. The report said it's unclear if Apple will eventually merge the less-popular Mac App Store with the App Store for iOS.
The project is reportedly codenamed "Marzipan" and is considered to be one of the biggest changes on Apple's roadmap next year. The report speculates that universal apps would make it easier for Apple to one day create a single operating system for all of its devices, should it ever go down that avenue.
Apple would be following in the footsteps of Microsoft's Universal Windows Platform, aimed at helping developers create universal apps that run across Windows 10 and Windows 10 Mobile, the latter of which is being phased out.