Apple Says iOS 11 is Now Installed on 65% of Devices
iOS 11 is now installed on 65 percent of iOS devices, according to new statistics Apple shared yesterday on its App Store support page for developers.
That's up six percentage points since December 5, when iOS 11 was installed on 59 percent of devices, and 13 percentage points since November 6, when iOS 11 was installed on 52 percent of devices.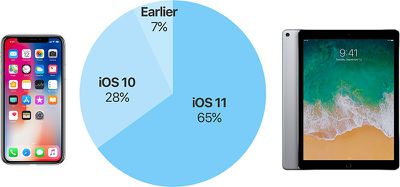 28 percent of devices continue to use iOS 10, while earlier versions of iOS are installed on seven percent of iOS devices.
Since iOS 11 was released, its adoption rate has been quite a bit slower than iOS 10 adoption rates in 2017. In January of 2017, for example, iOS 10 was installed on 76 percent of iOS devices.
Apple has released several updates for iOS 11 since its September launch, but the operating system has also been plagued by bugs and security issues, which doesn't appear to have helped adoption rates.
iOS 11.2.1 and iOS 11.2.2, the two latest iOS 11 updates, were both released to address major bugs and vulnerabilities. iOS 11.2.1 fixed a HomeKit bug that allowed for unauthorized access to HomeKit accessories, while iOS 11.2.2 introduced mitigations for the Spectre vulnerability impacting all modern processors.
iOS 11.2, released in early December, did bring some major new features to the operating system, like Apple Pay Cash and 7.5W Wireless Charging, but even that update doesn't appear to have spurred a larger than normal growth in adoption rate.
Some iOS 11 users who were unhappy with the current version of iOS were also able to recently downgrade their operating systems when a brief oversight saw Apple signing older versions of iOS dating back to iOS 6.
Apple next week will introduce iOS 11.2.5, another update that introduces an important bug fix for an exploit that allows a malicious link to freeze the Messages app when received via text message.
Though iOS 11 adoption is slower than iOS 10 adoption was last year, it still radically outpaces adoption rates of the latest versions of Android on Android-supported devices. Just 0.7 percent of Android devices are running Android Oreo, the newest version of Android released in 2017. 26.3 percent of Android devices run a version of Nougat, released in 2016, and 28.6 percent of Android devices continue to run 2015's Marshmallow.