Apple Says iOS 11 is Installed on 52% of Devices
iOS 11 is now installed on 52 percent of iOS devices, according to new statistics that Apple shared today on its App Store support page for developers.
This is the first time that Apple has updated its App Store support page since the release of iOS 11, and the first look we've had at official installation numbers.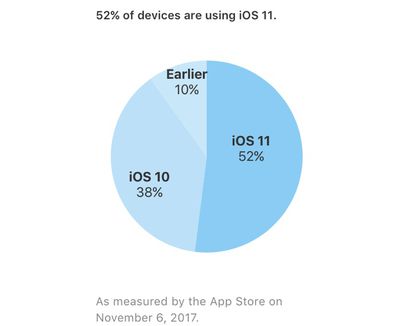 We've previously only seen installation estimates from analytics company Mixpanel, which appear to be quite a bit different. Mixpanel currently lists iOS 11 installation at just about 66 percent.
With iOS 11 installed on 52 percent of devices, 38 percent continue to run iOS 10. 10 percent are still on an earlier version of iOS.
iOS 11 adoption has been slower than iOS 10 adoption was last year, but the number of devices with the update installed has grown steadily since the new update was released.
Apple has thus far released several updates for iOS 11, including iOS 11.1, the first major iOS 11 update. iOS 11.1 introduced new emoji, brought back the 3D Touch App Switcher, and included some critical security fixes.
iOS 11.2, an update currently in testing, will be the first major update to bring a new feature -- Apple Pay Cash -- which could encourage additional users to upgrade to the new operating system.