Apple Releases iOS 11.2 With Apple Pay Cash, Faster 7.5W Wireless Charging, Date Bug Fix and More [Updated]
Apple today released iOS 11.2, the second major update to the iOS 11 operating system available on the iPhone, iPad, and iPod touch. iOS 11.2 comes a month after iOS 11.1, the first major update to iOS 11, and it follows several other smaller bug fix updates.
The iOS 11.2 update is available on all eligible devices over-the-air in the Settings app. To access the update, go to Settings --> General --> Software Update. Eligible devices include the iPhone 5s and later, the iPad mini 2 and later, the iPad Air and later, and the 6th-generation iPod touch.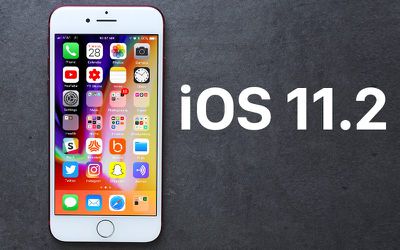 iOS 11.2, as a major 11.x update, brings several new features and important bug fixes. It introduces Apple Pay Cash, Apple's peer-to-peer payments service. Apple Pay Cash works through the Messages app and is designed to allow for quick person-to-person money transfers, like Square Cash or Venmo.
You can quickly and easily send and receive money through iMessage conversations with Apple Pay Cash. Cash is sent from a linked debit or credit card, while received cash is stored in an Apple Pay Cash card in the Wallet app and can be used for purchases or transferred to a bank account. For more on Apple Pay Cash, check out our how to.
For the iPhone X, iPhone 8, and iPhone 8 Plus iOS 11.2 appears to introduce
faster 7.5W wireless charging
speeds through compatible Qi-based wireless charging accessories. At 7.5W charging speeds, the three new iPhones are able to charge faster wirelessly than with the standard 5W wired iPhone power adapter.


When it comes to the iPhone X interface, iOS 11.2 adds a small bar underneath the status bar icons located at the upper right side of the Lock screen, which is designed to make the location of the Control Center gesture more clear. On the iPhone X, Control Center is accessed by swiping down from the top of the device.


In Control Center on all devices, there are two new informational pop-ups that are displayed when using the Wi-Fi or Bluetooth toggles. These pop-ups explain that Bluetooth and Wi-Fi are disabled temporarily rather than permanently when accessed from the Control Center.


iOS 11.2 introduces a new Sports section in the dedicated TV app, which offers up access to live sports games through integration with the ESPN app. The Sports app can be accessed through a new "Sports" tab at the bottom of the app, and it offers up custom content based on team preferences and current sports seasons.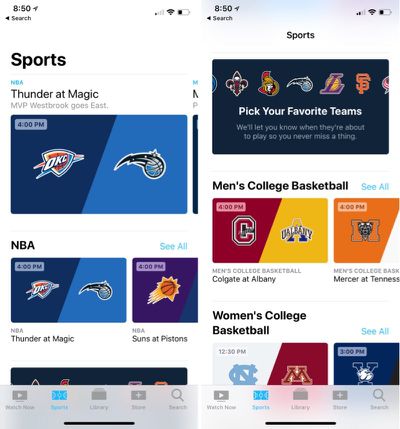 There are multiple bug fixes in the update, including a fix for an animation bug in the Calculator app that caused some numbers and symbols to be ignored when entered in rapid succession. The update removes the animations from the calculator app so calculations can be done quickly with no need to pause between entering numbers to obtain the correct result.
The update also addresses a date bug that caused continual crashing in iOS 11.1.2 after December 2. The problem was linked to local notifications, and according to a support document, it is fixed in iOS 11.2. iPhone and iPad users experiencing this bug should turn off notifications and then install iOS 11.2.
Other new features in iOS 11.2 include redesigned camera emojis and other emoji tweaks, a new loading animation for Live Photos effects, and Live wallpapers for the iPhone X. For developers, the update introduces a new feature that allows them to offer new customers discounted introductory pricing for auto-renewable subscriptions in the App Store. Full release notes for the update are available below:
iOS 11.2 introduces Apple Pay Cash to send, request, and receive money from friends and family with Apple Pay. This update also includes bug fixes and improvements.

Apple Pay Cash (US Only)
Send, request, and receive money from friends and family with Apple Pay in Messages or by asking Siri

Other improvements and fixes
- Adds support for faster wireless charging on iPhone 8, iPhone 8 Plus, and iPhone X with compatible third-party accessories
- Introduces three new Live wallpapers for iPhone X
- Improves video camera stabilization
- Adds support in Podcasts to automatically advance to the next episode from the same show
- Adds support in HealthKit for downhill snow sports distance as a data type
- Fixes an issue that could cause Mail to appear to be checking for new messages even when a download is complete
- Fixes an issue that could cause cleared Mail notifications from Exchange accounts to reappear
- Improves stability in Calendar
- Resolves an issue where Settings could open to a blank screen
- Fixes an issue that could prevent swiping to Today View or Camera from the Lock Screen
- Addresses an issue that could prevent Music controls from displaying on the Lock Screen
- Fixes an issue that could cause app icons to be arranged incorrectly on the Home Screen
- Addresses an issue that could prevent users from deleting recent photos when iCloud storage is exceeded
- Addresses an issue where Find My iPhone sometimes wouldn't display a map
- Fixes an issue in Messages where the keyboard could overlap the most recent message
- Fixes an issue in Calculator where typing numbers rapidly could lead to incorrect results
- Addressed an issue where the keyboard could respond slowly
- Adds support for real-time text (RTT) phone calls for the deaf and hard of hearing
- Improves VoiceOver stability in Messages, Settings, App Store, and Music
- Resolves an issue that prevented VoiceOver from announcing incoming Notifications
For more details on the iOS 11 operating system, make sure to check out our dedicated roundup.
Update: We're seeing several reports that Apple Pay Cash is not available in the release version of iOS 11.2. Given that this update was released at an unusual time, it may not be activated as of yet. It's likely we'll see Apple Pay Cash become available early next week.