Apple to Invest $390 Million in Finisar, US Maker of iPhone X TrueDepth Camera Lasers
Apple announced on Wednesday its plans to invest $390 million in Finisar Corp, which supplies components for the vertical-cavity surface-emitting lasers (VCSEL) found in the iPhone X TrueDepth camera.
The investment will be used to build a plant in Texas to make more of the chips, and will be financed by Apple's $1 billion Advanced Manufacturing Fund, which the company created earlier this year to foster innovation and create jobs in the U.S.

"VCSELs power some of the most sophisticated technology we've ever developed and we're thrilled to partner with Finisar over the next several years to push the boundaries of VCSEL technology and the applications they enable," said Jeff Williams, Apple's chief operating officer. "Technology is only as good as the people behind it, and Finisar is a company with a long history of putting its employees first and supporting the community it's a part of. We're extremely proud that our involvement will help transform another American community into a manufacturing powerhouse."
According to Apple's statement, the award will enable Finisar to exponentially increase its R&D spending and high-volume production of VCSELs, which power some of the iPhone's X flagship features, such Face ID, Animoji and Portrait mode selfies, as well as the proximity-sensing capabilities of AirPods.

"We're excited to continue our innovation with Apple of a technology that has tremendous potential," said Jerry S. Rawls, CEO of Finisar. "When you combine our proven ability to consistently manufacture exceptional products with our new state-of-the-art Sherman facility, we're confident we can achieve our shared goal of providing consumers with incredibly exciting features. Finisar has always been keenly aware it takes great people to power our work and that's why we're thrilled to be adding Sherman to our family."
Several reports in the months running up to the launch of the iPhone X suggested Apple initially struggled to ensure the TrueDepth camera's components could be produced in large enough quantities to meet demand. The delicacy involved in producing the VCSEL lasers was said to be one of the reasons behind the supply constraints, so today's news should ensure future production can be ramped up more easily if and when required.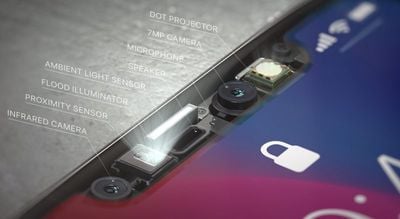 Apple is reportedly working on a new high-end 2018 iPad that will adopt many of the design elements from the revamped iPhone X, including built-in support for Face ID. The new tablet device, which is likely to be a "Pro" model, will reportedly do away with the Home button.
A rumor last month from Apple's supply chain has also suggested future iterations of the HomePod could come with 3D-sensing cameras to support Face ID. Meanwhile, KGI Securities analyst Ming-Chi Kuo has said Apple's Face ID technology is years ahead of similar facial recognition techniques from Android smartphone makers, and the company's rivals are struggling to catch up.
The first and only other time Apple has dipped into its Advanced Manufacturing Fund was in May, when it announced a $200 million investment in Corning, which manufactures the glass used in iPhones and other Apple products.